SWCA archaeological experts help paint a picture of those who came before us, passionately studying and preserving their cultures and histories. Laci Paul, staff archaeologist out of our Bismarck office digs into her career passions, becoming a parent during the pandemic, and work-life harmony. 
Who or what made you interested in pursuing a career in archaeology? 

I became very interested in documentaries about various ancient cultures following my older brother's fascination and study of Greek and Roman mythology. My mom was also fascinated with history, so she helped me develop a love and respect for those who came before us. It was clear to me that I wanted to pursue a formal education in archaeology, and during my Master's studies in New Mexico, I was lucky enough to work with some of the best-preserved archaeology in the country. 

 
What is your favorite aspect of the job/field? Challenges of the job? 
I've been able to hike and see cultural history and landscapes that the average person does not get to see. My passion lies in getting to be outside and doing archaeological surveys. 
Discovering and recording sites is my way of preserving the past for future generations. 
My biggest challenge has been balance. I got married in 2019 and now have two small children, Riley (1) and Hudson (2) who are four days from being one year apart. This can make balancing home and work difficult with the schedule of a field archaeologist, however, I'm glad to continue doing archaeological surveys - even if it is in a more limited capacity. 
What is it like to be a parent of two young children and a full-time archaeology professional?  
Being a parent is super fun and rewarding. It's an experience like nothing else. I am lucky to have a very supportive husband who has taken on a lot to facilitate my continued field career. Currently, I am in the field two days a week on my husband's days off, and work locally the other two days. My office has supported me with a work model that has allowed me to keep doing what I love.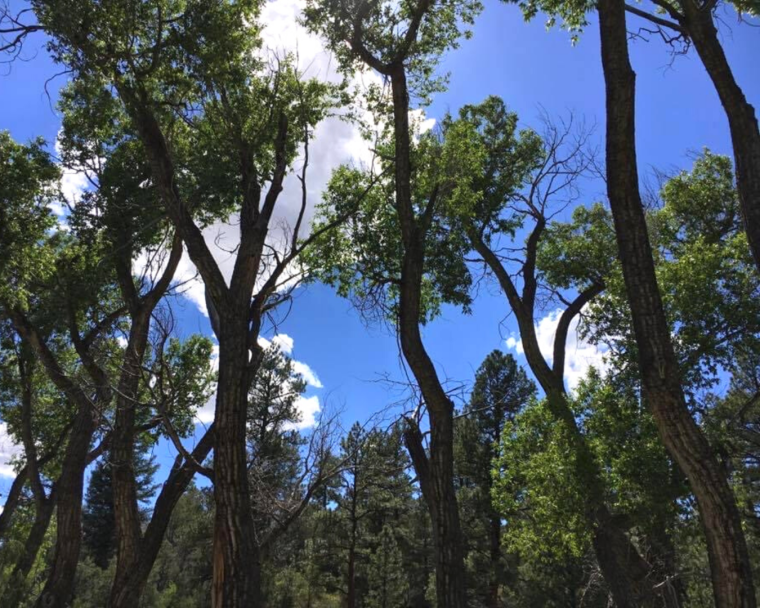 Peaceful snack break below massive cottonwood trees in the Cibola Forest, New Mexico.
How did your career change when you started a hybrid work model? 
When I had my oldest child, we walked into the hospital two days before North Dakota essentially closed down due to the COVID-19 pandemic in 2020. That situation was (obviously) unexpected and truly difficult. When I came back to work after maternity leave, everyone was working from home. I went from being a full-time field employee to working hybrid, as I was learning how to be a parent. It was a lot of change during a short amount of time.  
Working hybrid has been very helpful when it comes to having two little ones and spending time with them. This past February I dropped my hours to 30-35 hours per week, with the flexibility of switching back to full time. Working from home has given me the opportunity to learn new skills such as writing reports and site forms and has expanded my expertise in areas I didn't work in before. I've got a great team and they have assisted me in finding a balance between fieldwork and office work. I feel thankful that SWCA is able and willing to work with me on the number of field days I work each week. 
What project stands out to you as meaningful? 
Working with a Tribal Historic Preservation Officer here in North Dakota and protecting traditional cultural properties is the most meaningful work for me. It has been rewarding to get to know him, listen to his stories and learn from him as we're in the field together. This is so important to me because it feels as though we work together to preserve the past and I get to assist in preserving a part of the Native American story in North Dakota. 
Happily miles from civilization during an SWCA project in North Dakota.
Do you have an all-time-favorite discovery? 

I was on the crew that found a Clovis point, which is a projectile point made by Indigenous peoples over 13,500-12,800 years ago. It is always so meaningful getting to see a piece of history, and the whole crew loved seeing it up close. With SWCA, we found a chert spear point during an archaeological survey in 2017. That project was overall a super fun project, and I am glad I got to be a part of it. 

 
Any advice to those trying to become an archaeologist? 
Take advantage of every opportunity that comes your way. Don't ever be afraid to ask questions, and always record things as you find them. I encourage aspiring archaeologists to spend some time in the southwest. Going to New Mexico and studying archaeology there was an amazing experience and the best choice I've made for my career.