We interviewed Sarah Zink, Director of the Chicago office and lead of SWCA's Working Parents and Caregivers Employee Resource Group (ERG). She shares her insight on being a caregiver in the workplace and current priorities for the ERG.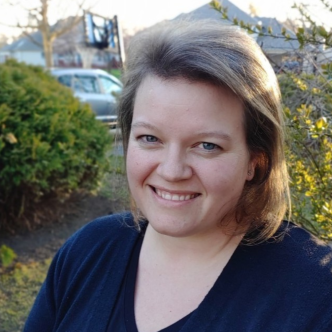 Sarah Zink, Director of SWCA's Chicago officeQ: Tell us about yourself and your career.
A: Our family living together includes my two children Bobby (7) and Ember (9), my husband Gregg, and my father Greg who is living with early-onset Alzheimer's.  We live in the suburbs and we enjoy visiting downtown Chicago, walking in our nearby forest preserve, as well as spending time with our two dogs, Scarlett and Bailey.
My professional background is in ecological restoration. I've been at SWCA for about two and a half years as the Director of our Chicago office, and I've already learned so much in this role.
Q: Why did you choose to lead the Working Parents and Caregivers ERG?
A: I joined the Women's ERG and realized there was a need for a specific group for caregivers.  Many women fall into the caregiver roll, but it isn't every woman's experience, and many caregivers are not women. 
Leading the ERG makes me a more intentional caregiver. It's wonderful to connect with people who are sharing experiences and challenges. SWCA celebrates how caregivers make our team stronger. We acknowledge the diversity of caregivers, in primary and indirect roles, caring for people in their lives in their own unique styles.
Q: What are accomplishments, priorities, and goals for the group?
A: We are primarily a safe space to share real emotions. We talk about individuals' topics of choice and lead broader conversations in monthly meetings. Our mission statement is: to be a space for working parents and caregivers to support each other, and advocate for a healthy and productive work-life integration.
Broader visibility within SWCA is our goal because we are seeking more opportunities for this group to support our colleagues. I'm also looking for a co-lead! I want to bring in new perspectives and share the joy of leading the ERG.
Q: Have you developed skills and qualities through caregiving that you use in your current role?
A: Some abilities relevant to my role as an office director include time management, helpfulness, attentiveness, kindness, patience, comfortability with responsibilities and decision making, managing multiple priorities and willingness to have uncomfortable conversations. 
Caregivers help people be their best selves. Recognizing and amplifying caregivers' unique contributions can shatter stigmas in the workplace (such as the old-fashioned misconception that caregivers are disconnected).
Q: What does being a caregiver mean to you, and what advice would you share with other caregivers?
A: Giving and receiving care is a personal journey, and it's a major aspect of family and community. To me, it's all about giving back.
My advice to other caregivers is to take care of and prioritize yourself. Caregivers can feel guilty about the things they're not doing for loved ones in their care, no matter how hard we work to support those people. Remember that you can't always be everything to everyone. Any individual can be inclusive of caregivers in the workplace by understanding what their colleagues are balancing and making others feel empowered to set the boundaries that they need to.