Ted Roberts, Senior Cultural Resources Project Manager in SWCA's Flagstaff office, recently worked with SWCA's graphic designers and cultural resource experts to create this quick reference typology poster detailing projectile points in Arizona.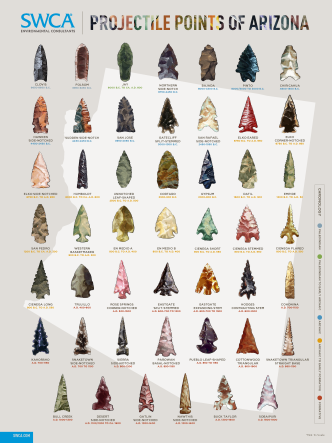 A free, printable version of the poster can be downloaded here.
The poster shows 48 different types of projectile points dating from approximately 9650 B.C. to 1800 A.D. The size and shape of projectiles vary widely depending on the era they were created, the intended use, and the object's material. Points were most commonly attached to spears, atl-atl's, or arrows for hunting mammoth, buffalo, or smaller game and would often be made from stones like quartzite, chert, or obsidian.
"This poster is not only a useful classification guide in the field, but it also looks beautiful hanging in an office or archaeology lab," said Roberts. "Our goal was to create a tool that could be shared among the cultural resources teams at SWCA and beyond, while also using Sound Science to honor the ingenuity of Native Americans through more than 10,000 years of human history in Arizona."
To learn more about SWCA's archaeology services, click here.