Congratulations to SWCA's Amherst office on winning the "Have a Heart Award" for the second year running. In 2021, The Amherst office continued to go above and beyond in their commitment to Giving Back, one of our Core Values. They raised the most in total employee donations and matching grants of all the offices. They also had the 4th highest total volunteer hours, increasing in both areas from 2020.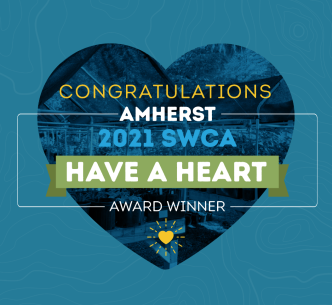 Amherst employees participated actively in the spring Auctioning for Awareness Campaign and totaled the most hours volunteered during the fall Clean & Green Campaign. Local Gives Back Office Co-Champions Becky Barber and Nadia Waski spent considerable time and effort to encourage participation with Gives Back, organizing engaging local events throughout the year including a virtual auction raising over $3,000, clean up events, and food drives. Their volunteer and donation efforts benefitted organizations such as the Amherst Survival Center, Lorraine's Soup Kitchen and Pantry, Connecticut River Conservancy, and Kestrel Land Trust.
Since 2015, SWCA has awarded an annual "Have A Heart Award" to offices and Local Office Champions who have stood out in their efforts and spirit of Giving Back. Past winners include Austin, 2015; Albuquerque, 2016; San Antonio, 2017; Salt Lake City, 2018; Phoenix, 2019; and Amherst, 2020.