Shaped by rivers, sounds, and the Atlantic Ocean, the coastal regions of North Carolina offer thousands of miles of scenic waterfront. Yet, due to the increasing impacts of climate change, these very waterways threaten the livelihood of a coastline dotted with historic towns and millions of residents. Coastal communities are facing intensifying storms, rising sea levels, and high flood risk.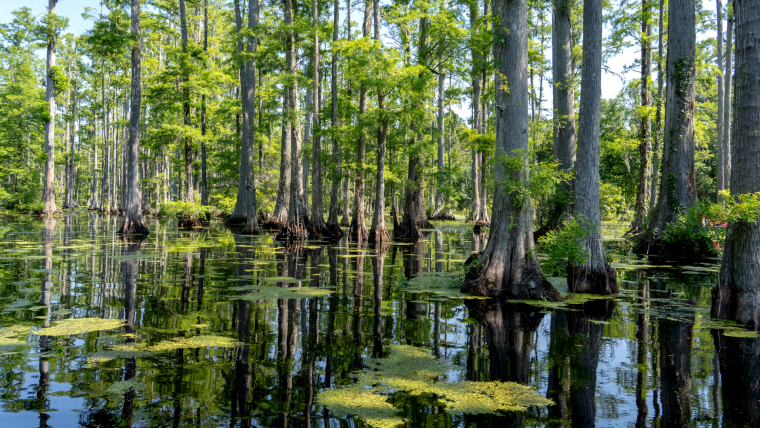 Wetlands hold water from storm events and help reduce flood impacts. When the size of a floodplain is reduced, its capacity for water storage reduces too.
PROACTIVE HAZARD MITIGATION ALONG THE NORTH CAROLINA SHORELINE
North Carolina launched its N.C. Resilient Coastal Communities Program (RCCP) in 2021 as a framework for counties and municipalities to prepare for coastal hazards through technical and financial support. The program equips local governments with the tools necessary to set goals, assess vulnerabilities, prioritize projects, and apply for funding.
Twenty-six commmunities participated in the first phase of the program and were provided technical assistance and grant process guidance. The North Carolina Division of Coastal Management paired SWCA with four communities in the Northeastern part of the state: Bertie County, the town of Windsor, Hertford County, and the town of Hertford.
DIVERSIFIED STRATEGIES
Over eight months, SWCA provided technical assistance to each community to facilitate a risk and vulnerability assessment, complete a community engagement process, and then develop a resilience project portfolio that is proactive, equitable, and sustainable.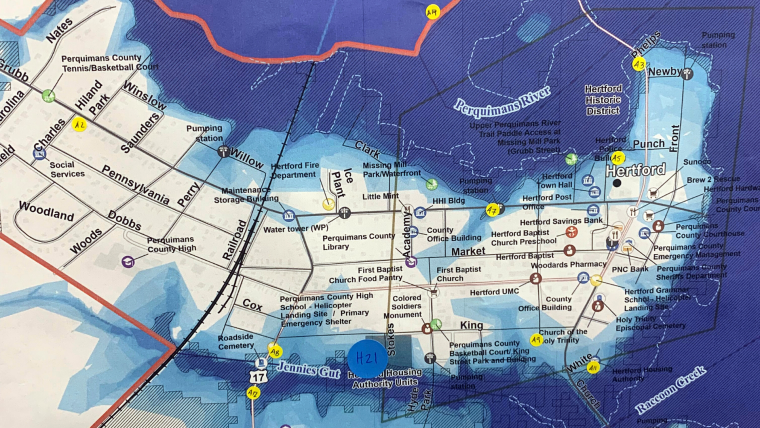 Marking community assets (yellow) and areas of flooding (blue) against a sea level rise and flood zone map during a public meeting in the town of Hertford, N.C.
There's no one right answer to climate adaptation. Diversification of each community's project portfolio allows plans to address a wide variety of concerns: human safety, infrastructure updates, local economic health, and environmental conservation.
High priorities among the four communities are largely focused on improving water drainage and flood safety, due to flat land and proximity to sea level. Built-environment projects include a variety of infrastructure retrofits in flood-prone areas, riverfront retaining walls, emergency shelters, and water management and maintenance plans.
Nature-based resilience projects reduce flood risk by putting flood-prone lands into conservation and restoring natural floodplain and channel designs, giving water places to go that have less impact on communities. The communities also chose follow-up studies such as land use mapping, feasibility research, and hydrologic watershed assessment, as well as strengthening communication with residents about flooding.
"We are hopeful about the possibilities that this program opens up for communities to think long-term and go after transformative funding," reflects Meg Perry, manager of the project at SWCA.
DECISIONS MADE WITH LOCAL KNOWLEDGE AND ENVIRONMENTAL EVALUATION
SWCA's team of natural resources and geospatial experts assessed risk and vulnerability by mapping hazards against existing infrastructure, analyzing climate data, and identifying areas where resilience could be improved in alignment with existing coastal plans. SWCA partnered with Punchard Consulting and a graduate student at UNC City and Regional Planning to support the risk and vulnerability assessment.

Sea level rise, flood zone, and historic storm inundation maps developed for Bertie County, N.C.Government staff, residents, and Community Action Teams collaborated with us to document stories about flooding, pinpoint at-risk areas, and share feedback on potential projects through in-person and virtual public involvement meetings facilitated by SWCA.
Next, our environmental planning team led each community in identifying a suite of potential projects, prioritizing options, and selecting the most crucial projects to implement in the near term.
Meg Perry discussing potential projects at a community meeting in Hertford County, N.C.The program empowers local governments to have project plans identified, and competitive supporting data to make a strong case when applying for grants from federal programs and other sources.
Anne Cabrera, Director of Climate Driven Services highlights, "We help communities approach their adaptation options holistically, incorporating elements such as ecological restoration and nature-based engineering solutions. This broader perspective on the potential solutions to mitigating hazards is a benefit to people and the larger environment."
For a deeper dive, read the N.C. Resilient Coastal Communities Program Case Study via the National Fish and Wildlife Foundation.
For more information about SWCA's resilience and planning services, contact (email hidden; JavaScript is required).