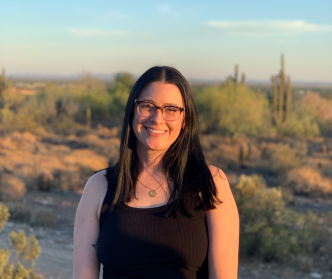 Meggan Dugan is promoted to planning director of Arizona. In this role, Meggan will lead SWCA's Arizona planning practice, focus on supporting teams across three Arizona offices, staff development, and growing planning service lines and clients. 
"I am looking forward to leading the fantastic team of planners I have already had the pleasure of working with for many years, and a few new faces! #OneSWCA is my favorite part of working for SWCA and I can't wait to see how the Arizona planning practice will grow to support projects both within Arizona and across the country. I see water planning and infrastructure as a primary area for growth across the west, expect to see more federal projects, and am looking forward to continuing to grow our local and state permitting practice that is already rocking and rolling," said Meggan.
Meggan joined SWCA in 2015 as an environmental planner/biologist out of the Phoenix office after graduating from Arizona State University with a master's in GIS. 
In 2020, she became the planning team lead for Flagstaff. She grew the original team of two into a crew of experienced project managers and planners that are highly sought after to support projects all over the West. Meggan's areas of expertise include BLM land use planning, NEPA, renewable energy, and Arizona-specific planning and permitting processes. 
Additionally, Meggan contributes as one of SWCA's aerial raptor nest surveyors and still spends a couple of weeks a year in a helicopter. She began doing aerial surveys while working for the Arizona Game and Fish Department in 2010, and it is still one of her favorite non-planning parts of her job.