Amherst, Mass. – With funding help from the SWCA Gives Back program, approximately ten SWCA volunteers, family, and friends participated in the Connecticut River Watershed Council's 2016 Source to Sea Cleanup on September 24, 2016. This event is a yearly trash cleanup that the Connecticut River Watershed Council hosts to allow the community to give back to the Connecticut River watershed system.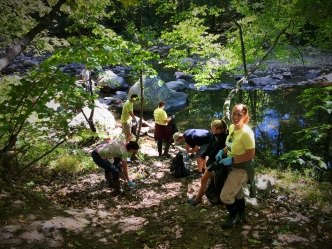 The event involves cleaning up the Connecticut River and its tributaries by recycling trash/debris from the banks of the river, hauling large objects out of the river with boats and divers, and tracking the amounts of trash collected for future preventative methods.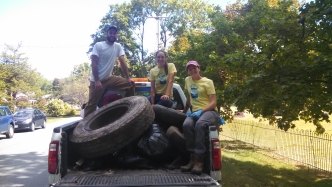 This year, volunteers cleaned out approximately 30 to 40 bags of trash, 5 truck tires, and several large metal objects from the Mill River. In addition to taking on our own cleanup site, SWCA volunteers teamed with the Connecticut River Watershed and the UMass Men's Rowing teams to restore a high priority site along the Connecticut River.
Our enthusiastic group of participants received local newspaper recognition from the Daily Hampshire Gazette and much thanks from the CT River Watershed Council. We plan to participate in this event again next year!