Albuquerque - SWCA awarded its third annual Have a Heart Award to the Albuquerque office. The Have a Heart Award is given annually to the office that most demonstrates SWCA's culture of giving by participating in Gives Back events and fundraisers.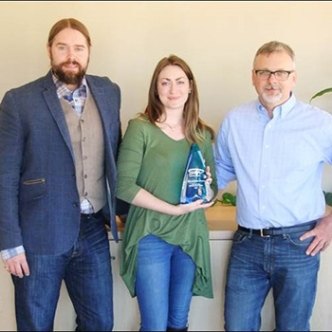 In 2016, the Albuquerque office displayed a strong commitment to their community. Collectively, they gave more than 120 hours of their time toward group volunteer and donation opportunities, including the Walk to End Alzheimer's and the annual Albuquerque Mudd Volleyball event benefiting the Carrie Tingley Hospital Foundation. Staff also organized relief efforts for the Make-A-Wish Foundation, PB&J Family Services, and the local Roadrunner Food Bank. 
In addition to the engraved award, the Albuquerque office received a $500 donation to the charity of its choice. Special thanks go to Principal Matt Bandy and SWCA Gives Back Local Office Champions Jackie Cronin and Ches Lucero for their energy, enthusiasm, and commitment to SWCA Gives Back!