How one landmark transmission line is changing the face of renewable energy and the way SWCA collects field data.
 By Christian T. Hartnett and Ken Lawrence
When is a power line not just a power line? When it has the potential to change history. The demand for clean energy is higher than ever, but meeting those demands requires robust infrastructure that doesn't yet exist. Wind and solar can go a long way toward powering our homes and businesses and meeting the demands to slash global carbon emissions. But you can't transport wind or solar energy by truck or pipeline. 
Enter the Plains & Eastern Clean Line Transmission project. Slated to go online in 2020, Clean Line is America's largest clean energy infrastructure project to date. It spans 720 miles, from the Oklahoma panhandle region east to Arkansas, Tennessee, and other parts of the mid-South and Southeast. Once complete, it will deliver energy to almost a million homes.
It's historic because it is the first overhead high-voltage direct current (HVDC) project in the U.S. in more than 20 years, and experts say it will pave the way for a substantial increase in renewable energy use. In other words, it will make energy derived from wind more accessible and more affordable.
So, naturally, when SWCA was brought in to conduct field work, we were excited. It was an opportunity for us to participate in a project that has a positive impact; but we also saw an opportunity to pool resources from several of our offices and solve some large-scale data collection problems.
THE 720-MILE CHALLENGE
Before we began the actual field work, SWCA spent six years gathering background data, coordinating with agencies and tribes, and doing preliminary technical reporting. When fieldwork commenced in May 2016, more than 90 SWCA cultural and natural resources field staff pulled from 10 offices were spread out across 720 miles of alignment in Oklahoma, Arkansas, and Tennessee. Aside from Clean Line being the largest linear project SWCA had worked on to date – crossing public and private land – it was also one of the most in-depth projects. It required the identification of cultural resources, threatened and endangered species, wetland delineation, and all the associated monitoring efforts for any natural and cultural resources we identified.
This project proved to be a unique data management challenge to document in 'real time' the various natural and cultural concerns. The decision was made early on to utilize tablet-based data collection to record the majority of information collected by field crews.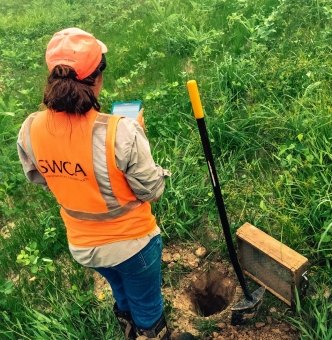 DEALING WITH THE DATA
In anticipation of this challenge, the GIS and cultural resources departments of SWCA's Austin office began experimenting with tablet-based data collection for archaeological and historic structure surveys in 2013. The plan was to develop a system that had been fully field-tested on a variety of projects so that field crews could hit the ground running when the Clean Line project began. We began developing a series of standard archaeological field forms that could be deployed in a variety of environments and projects. Initially, we focused on developing a form that would capture as much information as possible. But after testing these forms in the field in the heat of a Texas summer, our crews let us know that they needed something more streamlined. Crew members found common, repetitive entries of the same data (e.g., project number) took valuable time and frequently caused avoidable data entry errors.
It also became clear that in order to get field crews to adopt tablet technology, it was important to give them a role in development. Over the next year and half, we designed, tested, and redesigned the archaeological field forms. Testing began on small one-day jobs and quickly expanded to multi-day, multi-crew, multi-deployment projects.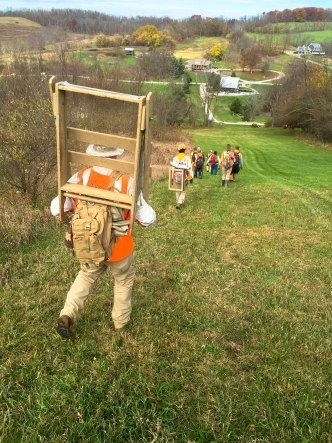 APPLYING DIGITAL TO CLEAN LINE
The Clean Line project required SWCA to scale up its tablet efforts by several orders of magnitude in a short amount of time. At the height of field work, there was a tablet for every archaeological field crew member and one tablet for each historic structure and aquatic resource team, requiring 80 tablets for 70 field personnel. The field procedures remained unchanged, but with the addition of each crew person recording their results (e.g., shovel test data) and associated photographs on a tablet.
In the past, a crew chief or field director would have gathered all the daily paperwork and reviewed it for quality assurance. With the tablets, the entire crew did this in substantially less time. A little extra attention to entering the data on the tablets shortened the review process at the end of each day. Once each crew's daily data review was complete, they all uploaded their forms to the project database and were done working for the day. By the end of the 2016 fieldwork, roughly spanning five months, the cultural resources crews recorded almost 40,000 shovel test excavations and 189 cultural resources (archaeological sites and isolated finds) across Oklahoma, Arkansas, and Tennessee. The natural resources group also collected an astounding amount of data during their recording of over 1,400 waterbodies, 300 wetlands, and associated photographs numbering over 4,000 to date. Overall, a massive amount of data was collected and electronically submitted for this project which conservatively amounts to $160,000 of labor savings.
THE FUTURE OF DATA
Plains & Eastern Clean Line may be the first renewable project of its kind, but it likely won't be the last. As we move forward, large-scale mobile data collection will be a key element in the success of these types of projects. Here are just a few of the advantages for SWCA and our clients:
LESS PAPER: From a logistical standpoint, mobile data cuts down on the amount of physical paper that needs to be collected, collated, and transcribed.
DATA SECURITY: From a risk management perspective, eliminating paper reduces the potential for losing a vital piece of data. A missing form or photograph could have significant impacts to the client's timetable. Data collected on the tablet is sent by a simple click of a button and stored safely in a secure SWCA cloud server.
LESS TIME: Mobile forms save time because they are designed to collect data systematically and uniformly, utilizing standardized menu choices and terminology. This eliminates the variation in the quality and quantity of the data recorded by field personnel.
BETTER QA/QC: The near real-time link between field crews, task managers, and clients allows for an ongoing QA/QC of the data. Previously, it would often be weeks or months before somebody would be able to review the entire body of the dataset and identify data gaps. This eliminates the need to bother landowners months later for access to their property again.
SIGNIFICANT COST SAVINGS: Mobile data collection saves clients money. In the past, a significant amount of time and money was spent transcribing hand written field notes such as shovel test forms into digital formats. During the development period, the Austin office noted that for every 100 shovel tests recorded on a tablet, it saved approximately eight hours of transcription time. For a project the size of Clean Line with more than 40,000 shovel tests recorded in 2016 alone, this saved the project approximately 3,200 hours, which conservatively amounts to $160,000 of labor.
For more information about our transmission and mobile data services, contact us.