PASADENA, Calif. – Representatives from SWCA's Pasadena office recently participated in Science in the Park, an educational outreach event held annually in Orange, Calif.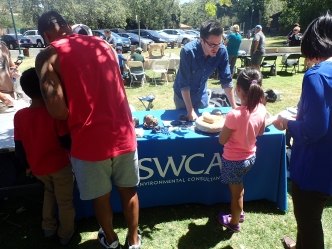 The event is organized by Dr. John D. Cooper Archaeological and Paleontological Center, in partnership with Cal State Fullerton and O.C. Parks and is held at Irvine Regional Park in Orange County. The event brings together a diverse range of science-based businesses, educational institutions, and conservation organizations in an effort to foster awareness and appreciation of Orange County's rich cultural heritage and natural history. A primary goal of the event is to educate the public and get children and their parents excited about science. Attendees set up display tables that introduce kids to different topics on the environment and to cultural and natural resources.
SWCA has attended the event the last two years. SWCA volunteers set up a unique, interactive activity table in an effort to engage and educate youths in aspects of archaeology and paleontology, and encourage them to learn more about the cultural and natural world around them. SWCA volunteers provide educational activities that include acorn processing (i.e. pounding/milling), which introduces them to important aspects of Native American lifeways and how to recognize archaeological materials. The SWCA display table also features several examples of the Paleontological record, and includes an interactive "fossil-making" activity that provides a fun way to educate kids on the process of fossil development.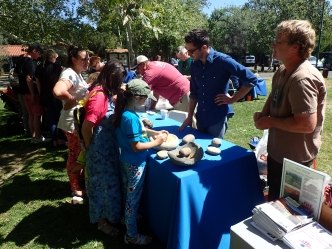 The Science in the Park event cultivates relationships with the public and with organizations such as The Cooper Center, the Bolsa Chica Conservancy, California State University, Fullerton, OC Parks, and various southern California Native American groups. SWCA is proud to attend this annual public educational event.