"Eventually, all things merge into one, and a river runs through it."
These words from the famous novel A River Runs Through It and Other Stories, by Norman Maclean, strike a chord in all of us. We cannot help but lose ourselves in nature. We are drawn to open spaces as moths are drawn to a flame.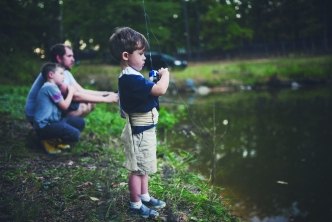 Why do we crave open space? Why do we seek nature? Why are these things so important to us, even in an urban setting? Perhaps it is because we need these spaces to quiet our mind and spirit. In the electronic information age, we need places where we can go to enjoy the sound of running water, the smell of fresh leaves after a morning rain, the sight of a white heron as it glides along the creek, the act of an inquisitive child digging in the dirt or inspecting a lady bug. We need these places as much as we need our homes, grocery stores, highways, and office buildings.
THE CENTRAL PARK EFFECT
In 1853, inspired by the green open spaces of London and Paris, the New York State Legislature authorized New York City to set aside more than 700 acres in the center of Manhattan for what was then a novel purpose – a park for the enjoyment and recreation of the city's citizens. Today, Central Park covers 843 acres of open green space. Central Park is iconic. The two are inseparable, City and Park, like body and soul.
Other iconic urban parks include Chicago's Lincoln Park, which is the second most visited city park in the country, followed by Mission Bay in San Diego. Atlanta has Piedmont Park in the heart of Midtown. And downtown Phoenix is flanked by South Mountain Park, which includes 16,000 acres of desert landscape, mountains, and trails.
HOUSTON'S TURN
In 2003, two Texas counties partnered and sought to create a refuge for the citizens of Houston and the surrounding suburbs. Harris and Montgomery County commissioners recognized a need for open space in their rapidly developing suburban areas. The goal was simple: create an open greenway along Spring Creek, which provides the boundary between their two counties. To do that, they called upon SWCA to conduct biological and cultural resources surveys along the proposed trail path.
Now, calling Spring Creek a creek is a bit of a misnomer. In many parts of the country, Spring Creek would be considered a river. Running approximately 60 miles from its headwaters in Waller County to its confluence with the San Jacinto River, the "creek" is 100 yards wide in some places. It is capable of carrying kayaks, canoes, and even full-sized boats. Its white sandy beaches and riparian forests are used by families wanting solace on weekend outings, local anglers seeking bass and catfish, and wildlife looking for food and cover.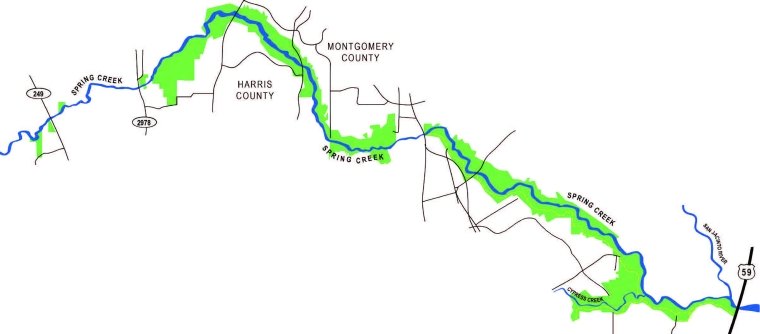 As Harris County Precinct 4 Commissioner Jack Cagle explains, "Our vision is to create a 12,000-acre linear park system, the largest of its kind in any major urban area, spanning nearly 40 miles of Spring Creek, preserving an ecological gem and creating a mecca for ecotourism, education, and outdoor recreation just north of Houston."
They're not far from that goal. The project now spans the entire 40 miles, with only a handful of outparcels still to be acquired, and includes more than a dozen county parks on both sides of the creek. Eventually, all of these parks will be connected by the Greenway and a pedestrian and equestrian (it's Texas, y'all) trail system.
The trail system will be enjoyed not only by local residents, but by visitors as well, as it lies less than two miles from Houston's George Bush Intercontinental Airport. Travelers can Uber from the airport to Jesse H. Jones Park and Nature Center, hop on a trail, rent a bike or a canoe, and enjoy the great outdoors before heading back. Likewise, multinational companies, including ExxonMobil, are planning their new Houston corporate campuses so their employees and visitors have access to the Spring Creek Greenway trail system.
HOW SWCA IS HELPING
SWCA has been involved with the development of this trail system for several years. Our biologists and archaeologists have conducted surveys for wetlands, endangered species, and archaeological sites (both historic and prehistoric) on more than 15 miles of the trail system. The area adjacent to Spring Creek has been occupied periodically as early as 8,000 years B.P (Archaic time period) to more recently 200 years ago by the Atakapans and Akokisa Native American Tribes, and the banks still contain remnants of their settlements.
Our archaeologists have successfully identified/tested as many as 20 cultural resource sites, including an historic cemetery. SWCA staff also helped Harris County avoid and minimize impacts to unique wetland habitats, including those crystal clear spring-fed freshwater ponds that give "Spring" Creek its name.
"It has been a pleasure working with Harris County on the routing of these trails," says Todd Butler, SWCA Archaeologist/Principal Investigator. "The establishment of the trails provides a much needed escape for residents to encounter and enjoy the beautiful landscape, wildlife, and history of our area."
"The trail system that's being installed is world class," notes SWCA Project Manager and Stream Restoration Engineer Lee Forbes. "In the middle of Houston, you can step off into this green world and lose yourself to the sounds and sights of nature. Bald eagles, herons, and native wildflowers; it's truly amazing. It's like you're not even in a city."
"As a native of this area, I see the Greenway as a legacy for our children and future citizens of the Houston metroplex," says Matt Stahman, Principal of SWCA's Houston office. "We're proud of what we've been able to do so far to help and we look forward to being involved in the next phase of the Greenway's development."
At a national scale, greenspace conservation in major urban areas, especially along the riparian zones of waterways, not only connects the public with nature literally out their backdoor but also provides other services including flood control, wildlife corridors, water quality improvement, and so much more. As we draw closer to "one" homogeneous landscape in our major cities, we hope Spring Creek Greenway will inspire other greenspace projects and that there will always be "a creek that runs through it."
For more information, contact us.