PHOENIX, ARIZ. – John Dietler, Southern California Principal, has been named the Larry Semo Scientific Achievement Award winner for the first quarter of 2018.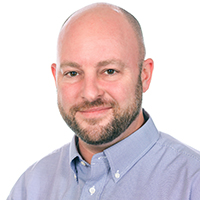 John joined SWCA in 2008 as a Principal Investigator, and has led Pasadena's cultural resources team in a variety of projects throughout southern and central California. Most recently, he led a collaborative effort of more than 100 SWCA staffers, colleagues, agencies, museums, and avocational societies for the San Gabriel Trench Project, a 2.5-mile, below-grade railroad trench that was constructed on the grounds of Mission San Gabriel Arcángel (established in 1771). The project exposed the foundations of the mission's 200-year-old garden, grain production facilities, and waterworks. The project earned a historic preservation award from the City of San Gabriel and was lauded for its extensive trilingual public outreach.
The quarterly Lawrence S. Semo Scientific Achievement Award rewards individuals for demonstrating passion, creativity, and scientific excellence in a manner that advances SWCA's purpose, mission, vision, and values. The award is in honor of Larry Semo, who began working as a biologist for SWCA in Austin in 1993 and transferred to Denver in 1999. A respected and widely published ornithologist and all-around naturalist, Larry had an insatiable desire to learn and a great love for the outdoors until his untimely passing in 2011.