Rowland Reeve has joined SWCA as a Cultural Resources Principal Investigator for the Pacific Islands office located in Honolulu, expanding our reach and expertise in cultural resources related issues throughout the Hawaiian Islands.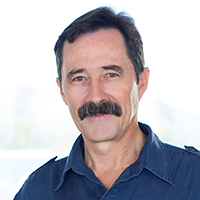 Born and raised in Hawai'i, Rowland has worked in the field of archaeology for more than forty years. He has directed and participated in reconnaissance surveys, inventory surveys and testing, and data recovery excavations throughout Hawaii, and has prepared numerous archaeological survey, monitoring, preservation, and burial treatment plans and reports. He also has experience conducting archival research and oral history interviews.
He holds a master's degree from the University of London Institute of Archaeology, and has been involved in archaeological investigations in the Hawaiian Islands, the South Pacific, Australia, Southeast Asia, Central and South America, and Europe.