Scott Phillips, Senior Principal Investigator in SWCA's Denver office, has been named the Lawrence S. Semo Scientific Achievement Award winner for the third quarter of 2018.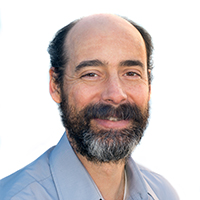 Since joining the Denver office in 2001, Scott has worked to keep SWCA at the forefront of Native American tribal relations. He's helped us keep tribal involvement central to our work at this critical time of change in consultation practices and engagement on projects.
Scott has cultivated and maintained good relations with tribes across the country, and has led the cultural resources efforts for large-scale projects involving oil and gas pipelines, Department of Defense installations, and ethnographic compilations for federal agencies. Additionally, his expertise was sought by the Department of Energy staff and attorneys to guide them on the steps necessary for tribal consultation and completion of National Historic Preservation Act review under the NEPA process.
Scott's scientific curiosity leads him to explore creative ways to conduct tribal consultation and site documentation. He has recently been working with SWCA's drone group to explore applications to identify tribal features on the landscape, and he plans to present on this method at the upcoming American Wind Energy Association's Environmental Siting Conference.
The quarterly Lawrence S. Semo Scientific Achievement Award rewards individuals for demonstrating passion, creativity, and scientific excellence in a manner that advances SWCA's purpose, mission, vision, and values. The award is in honor of Larry Semo, who began working as a biologist for SWCA in Austin in 1993 and transferred to Denver in 1999. A respected and widely published ornithologist and all-around naturalist, Larry had an insatiable desire to learn and a great love for the outdoors until his untimely passing in 2011.