Changes to our climate can be felt and measured in communities all across the country, but the climactic impact on natural disasters can be devastating. Disasters like drought, wildfires, and hurricanes are increasing in frequency and intensity, so government agencies and local communities are taking proactive approaches to reduce the social and economic cost of damages. By taking a closer look at our recovery strategies and building disaster resilience into mitigation plans from the beginning, we can all be better prepared to weather future events. SWCA is making an investment in our communities to increase disaster resilience and help reduce the costs of damages and the recovery efforts that follow. As a leader in ecological services like coastal restoration, natural channel design, and green infrastructure projects, SWCA is focused on developing and delivering creative solutions based on sound science.
Here we highlight three recent examples of disaster resilience and recovery from across the country, what we learned from each, and how it informs our approach moving forward.
POST-FIRE RESTORATION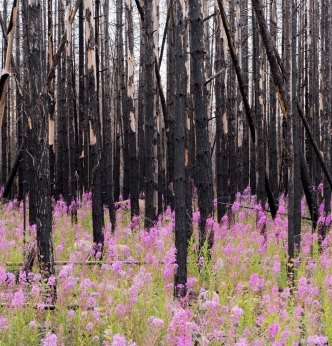 In the early summer of 2018, a fire was burning just east of Ute Park, a small community in northern New Mexico, consuming 30,000 acres in the first 3 days. The Ute Park Fire grew rapidly, threatening structures and closing highways, resulting in evacuations of area residents. When the fire was fully contained, 20 days after the first report, a total of 36,740 acres had been burned, damaging, disrupting, and threatening the long-term health and function of area watersheds. As with most large wildfires in the western United States, there was concern about the potential post-fire effects on natural resources, the quality of the water supply, wildlife habitat, and cultural resources in or near the fire-damaged area.
As soon as it was safe to enter the Ute Park Fire burned area, SWCA worked with the New Mexico Department of Homeland Security and others to create a Damage Assessment and Burned Area Emergency Rehabilitation Plan. SWCA analyzed first and second order fire effects on soils, water, and vegetation. This project gave us the opportunity to collaborate with SWCA employees across specialties and mobilize staff from different offices around the West, a true OneSWCA effort. Our engineers and watershed scientists worked to mitigate flooding impacts to municipal and agricultural water infrastructure, control erosion, and establish native vegetation cover. SWCA worked with stakeholders at all levels to ensure this critical plan would work across jurisdictions to protect life, property, and infrastructure.
Key Takeaway
The success of programs like the Ute Park Damage Assessment and Burned Area Emergency Response lies in taking a holistic approach to address post-wildfire issues. Considering various elements in the context of long-term restoration from the initial response, like emergency stabilization, suppression activity damage repair, and burned area rehabilitation, can have positive impacts on the overall recovery of the area. Involving various specialists with focuses in hydrology, geology, archeology, wildlife species, botany, and soils can ensure an integrated plan for recovery.
LIVING SHORELINES COAST TO COAST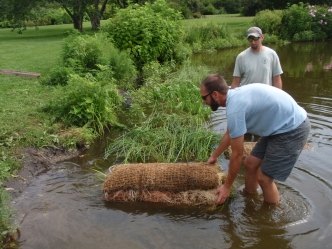 The effects of storms and the impacts of sea level rise are causing significant erosion on our nation's coasts. Many areas have historically battled erosion by building bulkheads, offshore groins, or sills from non-natural materials like concrete. In recent years however, living shorelines have been gaining attention as a natural alternative, using primarily native materials like vegetation, seagrass beds, and oyster reefs to stabilize the shoreline. These nature-based solutions provide significant advantages beyond erosion control. They create wildlife habitats, help to purify water and store carbon, and the resulting green areas are more aesthetically pleasing to residents and tourists. There have also been studies that show living shorelines provide more protection in major storms than hardened shorelines.
SWCA staff are collaborating on living shoreline projects on both sides of the country. On the East Coast, our team has worked closely with the North Carolina Department of Transportation to secure funding from the National Fish and Wildlife Foundation to repair damage from recent hurricanes. Working with the North Carolina Coastal Federation, SWCA developed a plan to address several sections of state highway where storms and rising tides flooded the road and eroded portions of the causeway. Not only does this type of damage result in expensive road repairs, but the rushing sediment and debris washes into the marsh causing further damage to an already fragile ecosystem. Grant funding will be utilized to implement a nature-based stabilization approach that will include living shorelines and expanded tidal marsh areas.
On the West Coast, in Menlo Park, California, the SWCA team is working on an Equalization Basin Facility that is designed to prevent emergency overflow from short-term surges of incoming water. In this particular facility, the basins are surrounded by a levy that is being breached at a typical high tide with the potential for even worse impacts in a strong storm. This problem had been addressed by adding fill to the levy. However, this was only a temporary solution and adding fill reduced storage capacity in the ponds. For a more permanent and ecologically friendly solution, SWCA proposed a living shoreline. This project is currently underway and will partner with Save the Bay, a nonprofit organization, to utilize a wetland plant nursery on the site to propagate native plants for the project. In addition to the living shoreline protecting the existing facility, this approach will also allow for future expansion of the facility into water recycling and desalination.
Key Takeaway
As we learn more about the benefits of having healthy natural areas as a source of protection for our built environment, we are looking for increased opportunities to help communities nurture and reinforce this green infrastructure. The ecosystem service of these green areas on infrastructure can be taken advantage of by conserving existing natural areas and restoring others, thereby increasing the capacity for natural storm protection along our shorelines. In addition to protection from future disaster, living shorelines also provide more ancillary benefits like improving water quality, increasing biodiversity, and promoting recreation within a community versus hard shoreline structures.
HELPING TEXANS' LONG-TERM RECOVERY FROM HURRICANE HARVEY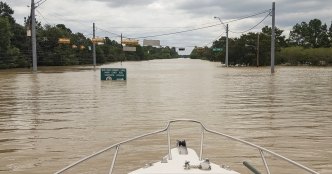 Hurricane Harvey, a devastating storm in August 2017, is estimated to have damaged over 300,000 structures, caused $125 billion in economic harm, and resulted in more than 100 resident deaths along the entire Texas coast. Many residents and communities devastated by the storm were unable to repair the damages using limited state and local resources. The state applied for and received over $5 billion in Community Development Block Grant (CDBG) funds from the U.S. Department of Housing and Urban Development to assist in repairing or replacing damaged infrastructure and homes, with more than 70 percent of the funds focused on benefiting lower income residents.
In 2018, SWCA was selected as the Primary Environmental Services Provider for the Texas General Land Office (GLO) division responsible for this disaster recovery. In this role, SWCA works closely with the state to provide technical assistance and guidance to those preparing environmental documents for infrastructure and single-family/multi-family residential recovery projects. Our work helps them comply with the many federal and state environmental regulations so that rebuilding can be done in a responsible manner. We also prepare the required documents when applicants aren't able to develop their own funding request. To streamline the environmental reviews for individual houses receiving CDBG funds, SWCA prepared 50 county-level Environmental Assessments that guide the review process. SWCA also provides the GLO with environmental studies including cultural resources surveys, wetland delineations, technical reports, and environmental site assessments. As of November 2020, SWCA has helped more than 8,000 homes and 40 multifamily complexes to become eligible for recovery funds.
Key Takeaway
Rebuilding after a disaster is a top priority, but it is critically important to make sure steps are followed to rebuild correctly, so as to not jeopardize funding and also to ensure reconstruction activities do not create or compound environmental damage. Working with a team who understands environmental policy regulations and can help navigate these without slowing down recovery can be crucial to the success of rebuilding under federal programs.
LOOKING AHEAD
The next natural disaster is not a matter of if, but when, and no region of the United States is immune to the devastating effects in one form or another. By being there for our communities and partners with mitigation and resilience strategies before disaster strikes, we can work to lighten the load when the time comes to rebuild together. Planning now for a future disaster's recovery is the best way to make use of these three key strategies:
taking a comprehensive and holistic approach to recovery
incorporating the use of green infrastructure and natural lands as forms of protection, and
including team members who understand the policy requirements and regulations can set planning efforts up for success.
For more information about how we can help with disaster resilience and recovery, contact Anne Cabrera at (email hidden; JavaScript is required).