The U.S. Fish and Wildlife Service (USFWS) has proposed to list the alligator snapping turtle (Macrochelys temminckii) as a threatened species under the Endangered Species Act (ESA) with a special rule refining the activities that would be prohibited without agency authorization. This species is the largest freshwater turtle in North America and has experienced population declines and reductions in range over many decades.
ARE YOU AFFECTED?
The turtle currently occurs in river systems across portions of 12 states: Alabama, Arkansas, Florida, Georgia, Illinois, Kentucky, Louisiana, Missouri, Mississippi, Oklahoma, Tennessee, and Texas.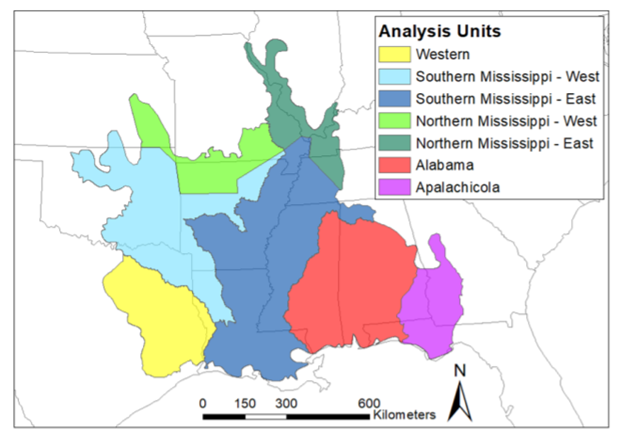 Current range of the alligator snapping turtle across 12 states and population analysis units considered in the species status assessment. From the USFWS Southeast Region Species Status Assessment Report for the Alligator Snapping Turtle (Macrochelys temminckii), version 2.1, dated March 2021.
If listed as proposed, activities that alter the bed, bank, or riparian zone of occupied waterbodies could require authorization from the USFWS. Harvest of these turtles, including for recreation, could also be prohibited without authorization.
The USFWS proposed a special rule identifying certain activities affecting the turtle that could proceed without agency authorization:
certain construction, forestry, pesticide/herbicide management activities near streams consistent with best practices
maintenance dredging of navigable waterways
certain conservation and state-authorized farming activities
certain tribal activities
SWCA CAN HELP
The USFWS is accepting comments and information about the turtle through January 10, 2022. The agency will consider this information and decide on the proposal within 1 year. Before a final decision, landowners and project proponents can review planned and ongoing activities for potential risks associated with a decision to list the turtle.
SWCA scientists are currently performing ground-breaking field research on this turtle. We also have ESA regulatory specialists that can help you understand risks and opportunities associated with a new listing. Our team can help you understand the proposed rule, prepare comments, and evaluate options for your project or property. Please reach out to your primary SWCA contact or one of the following experts:
(email hidden; JavaScript is required)

(email hidden; JavaScript is required)
LEARN MORE & PARTICIPATE