Allison Locatell, staff biologist out of the Arlington office, has been named the Lawrence S. Semo Scientific Achievement Award winner for the fourth quarter of 2021.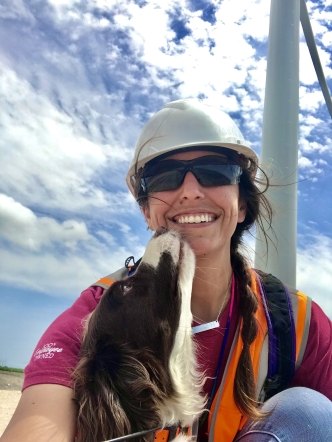 Allison joined SWCA in 2017 as a field biologist in our Arlington office. She currently serves as the Natural Resources - Emergency Lead, assisting the Pasadena office with energy transmission contracts through helping manage the day-to-day efforts of SWCA's emergency response team.
From the day Allison joined SWCA, her passion for wildlife and canines (domestic) has been obvious to anyone who has worked with her. Since 2018, Allison has worked tirelessly to combine those passions towards the goal of developing a canine detection service at SWCA in hopes of providing a more accurate and efficient method to detect rare or cryptic wildlife. Allison has attended trainings, conducted canine training, and connected with experts in canine wildlife detection from around the world in pursuit of this goal. This past year, working with a team across SWCA, Allison successfully executed canine post-construction avian and bat fatality trial studies at two operational wind generation facilities in Texas to evaluate the benefits of using dogs over humans for fatality searches at wind generation facilities (read "What a Dog's Nose Knows"). Allison embodies the spirit of this award with her determination, curiosity, and care for her work and those she works with (human and canine alike). 
The quarterly Lawrence S. Semo Scientific Achievement Award rewards individuals for demonstrating passion, creativity, and scientific excellence in a manner that advances SWCA's purpose, mission, vision, and values. The award is in honor of Larry Semo, who began working as a biologist for SWCA in Austin in 1993 and transferred to Denver in 1999. A respected and widely published ornithologist and all-around naturalist, Larry had an insatiable desire to learn and a great love for the outdoors until his untimely passing in 2011.