Total impact of $16,245
Supported 37 local and national organizations
Hunger impacts every community; it's on the rise since the pandemic hit, and is a particular risk for families with children. In May 2022, SWCA launched a companywide Gives Back campaign to support organizations fighting for food security throughout the United States.
The Fun(ds) for Food silent auction raised a total of $16,245 through employee donations to 37 local and national organizations supporting food security, company donations on behalf of auction prize winners, and a matching company grant to Ample Harvest.org, a nationwide platform creating systemic change by connecting gardeners who have surplus produce to food pantries in over 4,200 communities.
Gary Oppenheimer, Ample Harvest.org Founder and Executive Director comments, "The extraordinarily generous donation from SWCA and its employees will enable more of America's home/community gardeners to donate fresh food this year. We strongly believe in sustained impact and are thrilled that SWCA shares this belief."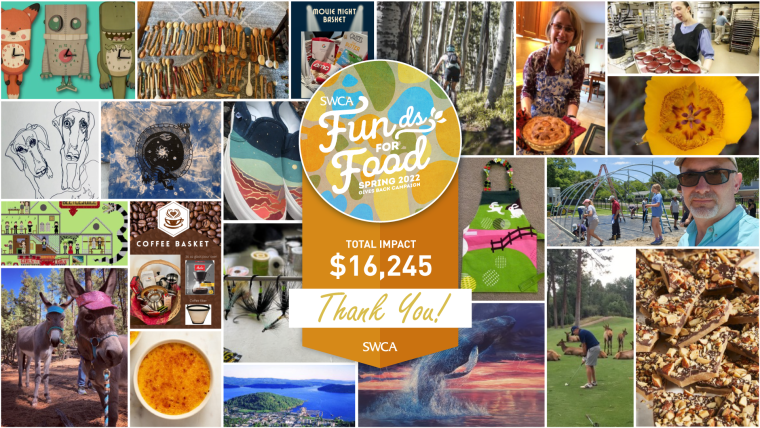 SWCA employees donated more than 120 creative items and experiences to the auction, including a mini donkey and burro hangout time, pickleball lessons, homemade treats, and custom doodles to name a few. Winning bidders made cash donations to local organizations across the country.
Over the last decade, SWCA's award-winning Gives Back program has grown to reach every community we serve. Each year our employees participate in an array of charitable service projects, many of which are grassroots efforts led by coordinators at the office level.
"I am proud to be a champion of this campaign because there is no excuse for anyone to go hungry," comments Melanie Gregory out of our Raleigh, North Carolina office.