SWCA partners with Native American Tribal communities, the Eldorado National Forest, and American Conservation Experience to create a native plant field guide and PROVIDE restoration RECOMMENDATIONS
BACKGROUND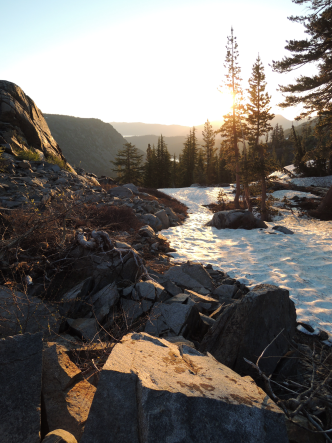 Eldorado National forest, USDA photo by Paul WadeAlthough the 2004 Power Fire in Northern California's Eldorado National Forest occurred nearly two decades ago, recent grant funding from the National Fish and Wildlife Foundation provided an opportunity to restore the area's ecology and strengthen partnerships between Native American communities and the U.S. Forest Service.
Spurred by long-standing consultation between local Native American Tribes and the Eldorado National Forest, in late 2019 the nonprofit organization American Conservation Experience selected SWCA as the environmental agency to partner with local Native American Tribes and the Forest Service on a conservation project using this funding.
SWCA worked with representatives from the Ione Band of Miwok Indians, the Jackson Band of Miwuk Indians, and the Washoe Tribe of Nevada and California to create a digital database and field guide identifying native plants of Indigenous significance and to target restoration areas in the forest's 17,000 acres of burn scar.
Plants are critical for all aspects of life, providing food, medicine, building materials, tools, and—for Native American communities—ceremonial functions. The native plant field guide provides locations and descriptions of these significant plants along with other information that will help the Forest Service improve forest management practices. The guide also serves as an important practical teaching tool for Tribal communities who want to preserve their Indigenous knowledge for future generations.
"Native cultures are inextricably linked to the habitats and plants in the areas where they reside," said SWCA Lead Anthropologist Suzanne Griset. "A critical part of sustainable conservation is to better connect with Tribal communities to understand and respect Indigenous traditional ecological knowledge and incorporate it into land management practices."
CREATING THE GUIDE
SWCA and Forest Service staff met with Tribal representatives—Rollie Fillmore, Cultural Representative of the Jackson Band of Miwuk Indians; Darrel Cruz, Tribal Historic Preservation Officer/Cultural Resources Office Director of the Washoe Tribe of Nevada and California; and cultural representatives from the Ione Band of Miwok Indians—to learn about the plants that are significant to them and how they can be best managed to flourish.
Over the course of multiple meetings, the group compiled the significant indigenous and botanical information needed to produce the native plant field guide.
In such an ecologically diverse area, the original list of plants likely to occur within the burn scar included over 500 species. After several months of discussion and knowledge sharing—and a great deal of translation between scientific names, common names, and traditional Tribal names—the team pared down the list to 79 culturally significant plant species to record within the burn scar.
"One of the first project lessons was learning how to communicate with each other about the same plants with differing names and groupings for each Tribe, for botanists, and for anthropologists," Griset noted. "We all have different plant classification systems that are based on different principles."
Interns from American Conservation Experience then completed pedestrian surveys under the guidance of SWCA's team to photograph and collect locational data for these significant plants to be used in the guide and in GIS analysis.
Using these data and information from the Tribes, the team prioritized potential restoration and traditional gathering areas and created the plant guide. The guide contains plant descriptions, Native American use categories, and locations and images for each plant species. The data are also maintained in a digital database that each Tribe can access independently to maintain for their purposes.
"It was important to the Tribal groups to capture the information completely and accurately in a digital format to preserve their Indigenous knowledge and pass it on to younger generations in a way that they will connect with," Griset said.
Additionally, a printed plant guide with general locations, descriptions, and images of each plant species will be available to Forest Service staff to help them identify and manage these important plants in the field.
"This project further improves the avenue for traditional ecological knowledge to be meaningfully included in forest management decisions. It has been a very rewarding experience to create strong relationships with the Tribal Representatives and help create such a purposeful resource," Griset said.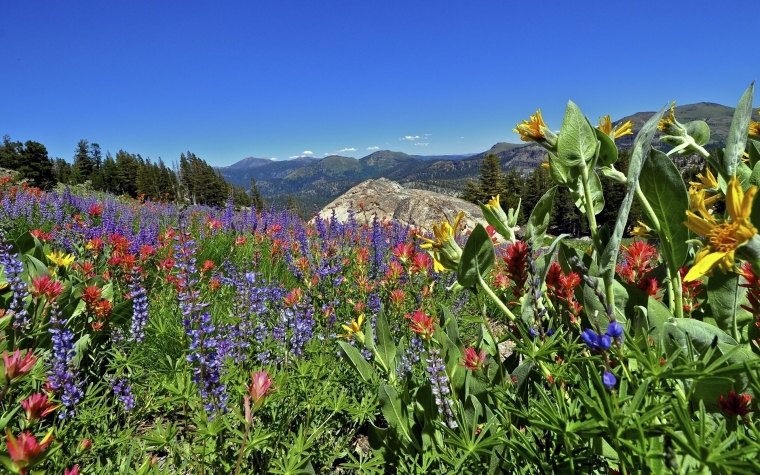 NEXT STEPS
The Eldorado National Forest and local volunteer organizations can now improve the resource management of these priority plant species and restoration areas by implementing existing and planned conservation initiatives, restoration projects, and public education outreach programs.
Potential efforts include:
identifying areas that could benefit from planting native seeds,
removing invasive species,
controlling erosion, and
balancing other stakeholder uses that may harm native plants.
A scaled-down version of the plant guide in the form of a small brochure will be available to the public at a later date to increase awareness of the sensitivity and importance of traditional plants.
"It has been a great pleasure to work with my SWCA colleagues and our partners—the Tribal representatives, the Forest Service staff, and American Conservation Experience," shared SWCA Project Manager Aaron Elzinga. "Above all, it was an honor to have been entrusted with the Tribes' special knowledge and contribute to something that can be used as a practical and educational tool by both the Tribes and the Forest."
For more information, contact (email hidden; JavaScript is required).