Have you heard about the solar industry's pollinator push? Utility-scale solar developers are reconsidering how to best manage the ground cover for their projects—and they're buzzing about pollinator-friendly vegetation.
Utility-Scale Solar Projects Benefit from Pollinator-Friendly Vegetation
"Our clients recognize that it's becoming the norm to operate more sustainably and add layers of value to their developments," comments SWCA's National Client Services Director of Power Generation. "Utility-scale solar projects and native pollinator vegetation pose a unique opportunity: using nature-based solutions to add value to our clients' long-term bottom line, the communities they operate in, and the environment."
Deep Roots Make Excellent Solar Development Ground Covers
Native plants are inherently the best adapted to a project area's soil and site conditions, and most pollinator varieties provide more robust root structures compared to agricultural crops and turf grasses. The natural resilience of deep roots can open the door to a wide array of benefits for solar developers, helping to maximize a project's generating capacity while minimizing impacts on the local community and environment.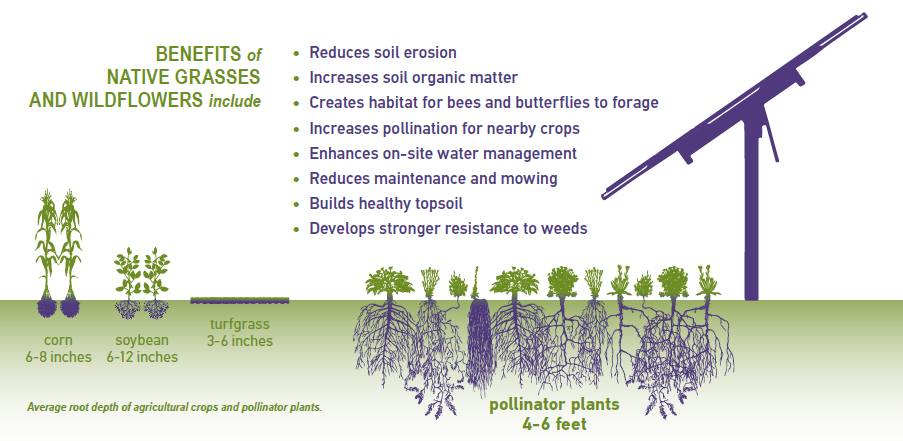 Can Utility-Scale Developers Cut Costs with Pollinator-Friendly Solar?
Purposeful management of vegetation and soil is cost-effective for developers over the long term. SWCA estimates that the operation and maintenance of pollinator vegetation is 80% to 90% less expensive than turf over ten years for utility-scale developments.
Once established, robust root systems keep costs low. Established native vegetation and extensive root systems help prevent runoff and soil erosion, outcompete weeds and invasive species, retain more water, need mowing only once a year, and require no fertilizers, pesticides, irrigation, or aeration. Herbicides are used only for spot treatments as the vegetation takes hold.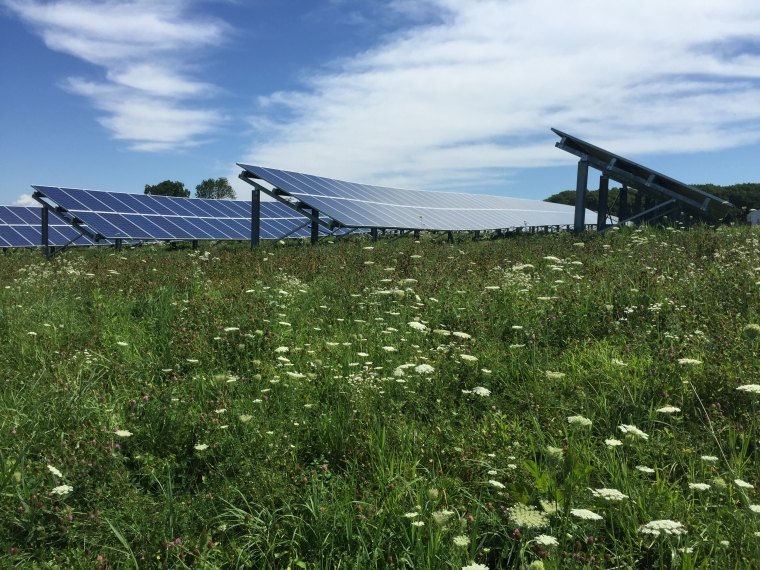 Wildflowers under solar panels in MassachusettsDense vegetation creates a layer of shade on the ground, absorbs latent heat, and promotes lower ambient air temperature through transpiration as a part of photosynthesis. This cooler, moderated microclimate can improve the energy production efficiency of solar panels.
Furthermore, developers can get ahead of future requirements such as pollinator scorecards, laws regarding invasive plants and fire risks, and potential monetary incentives for supporting pollinators.
"Designed and implemented well, the incorporation of native pollinator vegetation into a project enables our clients and partners to capitalize on lower costs for operations and maintenance over the long term, increase production efficiency, and reduce risks on their clean energy developments," explains Tony Somers, an SWCA Landscape Architect specializing in energy development landscapes.
Do Local Communities Benefit from Pollinator-Friendly Solar?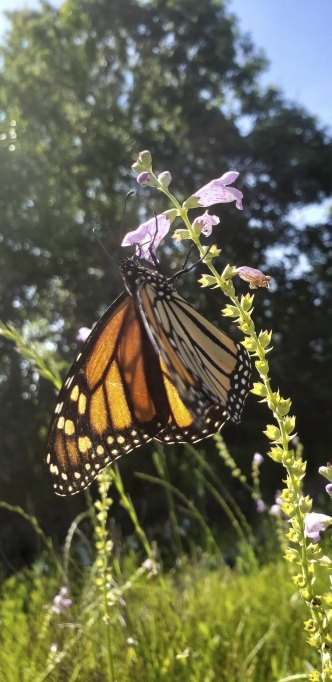 Cross-pollination contributes to stronger crops in the surrounding farmland, and the vegetation on-site can financially support farmers by improving soil health while solar companies are leasing their land. The native vegetation suppresses dust from the site and consumes less of the community's valuable water resources while producing less chemical pollution.
Communicating the benefits of pollinator-friendly solar will often correlate with better public perception, smooth permitting, and Environmental, Social, and Governance (ESG) opportunities for the developers.
When the solar arrays are decommissioned, farmers and communities might reclaim the land and choose what they'd like to do with the healthier, transformed landscape: return it to agriculture, turn it into a public natural area, or pursue other opportunities.
Developers can build local relationships and invite others to benefit from the land by partnering with universities or nonprofits involved in pollinator research.
How is Pollinator-Friendly Solar Productive for the Environment?
Reintroducing natural ecological components to soil suffering from degradation brings the soil-forming, nutrient-cycling processes back to life. Deep roots break up soil that's hardened over the years, recharge groundwater, and improve soil carbon sequestration. The surface vegetation slows runoff, allowing plants to decompose on the site, which, in turn, creates more topsoil.
These projects can help restore natural ecosystem services to the site and surrounding ecology. Overall water quality is healthier when vegetation at the project site is managed as nature intended because chemical treatments that can pollute the water are no longer needed. Greater flora biodiversity releases more oxygen, supports pollinator habitat, and promotes cross-pollination for the surrounding ecosystem. Solar panels are damage-proof to small animals who may visit the field to forage.
What Are Some of the Challenges when Implementing Pollinator Planting?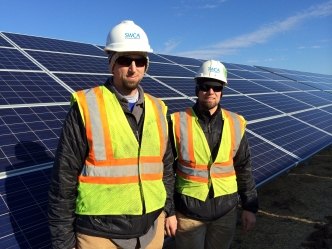 SWCA inspects for stormwater compliance at a Massachusetts solar array"No doubt it takes time, up-front investment, and collaboration among parties to successfully plan and implement this type of revegetation project," mentions Davy Crawley, SWCA's Pensacola, Florida, Office Director who specializes in project management, siting, design, permitting, and construction compliance for energy development clients.
Hurdles for developers include familiarizing their teams and their engineering, procurement, and construction (EPC) contractors, teaching the concepts to stakeholders, carefully analyzing site conditions, and planning site-specific vegetation and maintenance.
Despite the learning curve and investment in the beginning, the benefits of pollinator-friendly solar for developers go far beyond checking a compliance box. These concepts are rooted in sound science and accompanied by the payoff realized with solution-forward business strategies.
Developing and Implementing Pollinator Revegetation in Varying Ecoregions
"Rule number one: we need to take care of the soil, especially the topsoil" emphasizes Nate Wojcik, SWCA's Principal Restoration Ecologist. "We focus on the natural underlying ecology, and we can incorporate soil handling practices, revegetation and maintenance actions, development of the seed mixtures, landscape architecture, project life cycle, and strategies to implement the plan to success."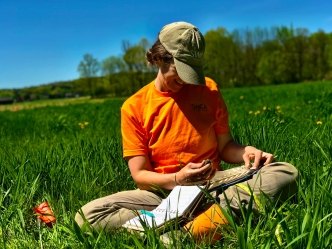 Evaluating soil type for a solar permitting project in MassachusettsFor revegetation plans tailored to pollinators, we consider which pollinators to encourage and their natural social behaviors (such as bees following their queen), assess the existing habitat and how it has been impacted, and build pollinator function into the seed mix and site design.
For solar projects, the plants' height in all phases of the growth cycle must be under 24 inches to avoid blocking the solar panels or posing a fire risk to the panels and site.
Pollinator seed mixes (also called a planting palette or seed matrix) must include different varieties of flora, each serving a purpose. "We plan a mosaic of vegetation that is well adapted to the site conditions and provides practical benefits for the pollinator species supported by the project. These benefits can include providing nectar, host plants, refuge, and windbreaks," comments Sharif Durzi, an SWCA Project Manager and pollinator-minded biologist.
Creating a Suitable Pollinator Habitat by Using the Concepts of Successional Ecology
The ecology in an area naturally changes over time in the process of ecological succession. We apply the concepts of successional ecology when developing soil and vegetation management plans for pollinator-friendly solar.
Annuals with shallow roots begin to break up the soil and can be driven over during construction.
After construction, flowering plants are selected to bloom in the early, mid, and late seasons, flowering annuals take hold quickly, and grasses and other vegetation provide ground cover.
A different seed mix with trees and bushes is planted in certain locations to break the wind and mitigate the visual impacts of the development.
Deep-rooted, hardy, perennial vegetation takes hold within 2-3 years, reclaims the soil, combats annual weeds, and provides nectar from flowers.
"We sit down with our client, the landowner, and the construction contractor to create soil and vegetation management strategies with drawings, standard operating procedures, and open discussions about how the practices bring value back into the ecosystem — and how we can best work together to bring the plan to life," details Ryan Rupprecht, an SWCA Senior Project Manager specializing in siting, permitting, and resources studies for renewables.
Regional Resources Considerations and Challenges for Successful Pollinator Vegetation
The American West and Mountain regions are challenged by wildfire, water scarcity, arid deserts, and lack of topsoil, but many regions have space for projects.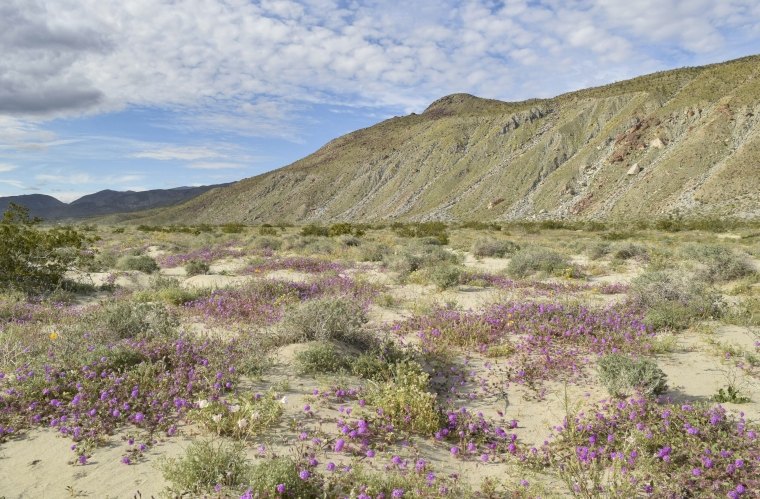 The Northeast and Midwest have natural water resources, a variety of native vegetation, and generally have requirements for vegetative screening to reduce visual impacts.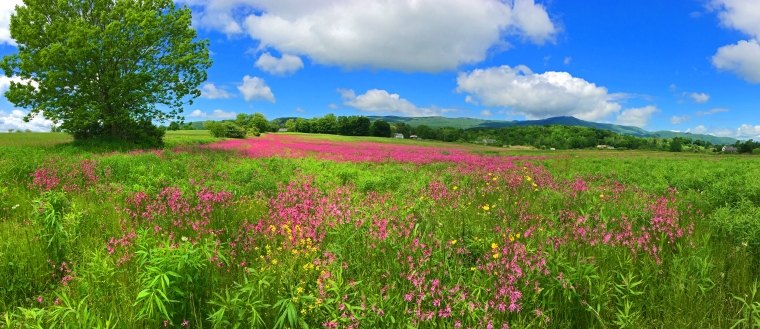 The Southeast has plenty of water, long growing seasons, varying topography, fire risks, and, in some regions, sandy soils that don't retain water well.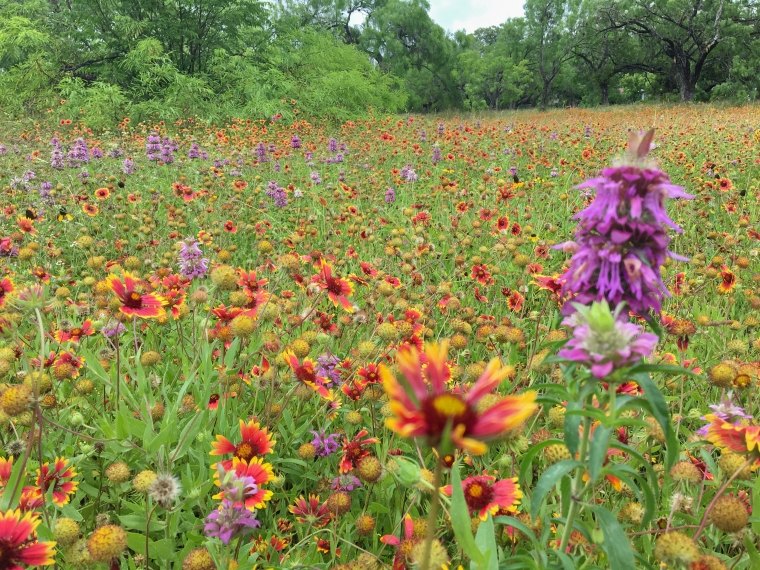 What's Next for Pollinator-Friendly Solar?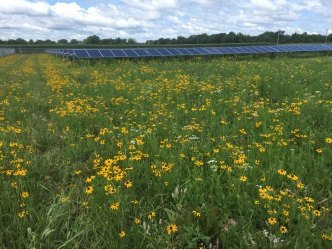 Wildflowers bloom at a solar farm in MinnesotaAs pollinator populations are in distress worldwide due to habitat loss and climate change, SWCA recognizes that pollinator planting in tandem with utility-scale solar is one of many solutions for pollinators. On behalf of our clients, we will be watching for more standard definitions on the requirements of successful pollinator-friendly solar.
SWCA has been providing soil and vegetation management planning services to clients in the renewable energy generation, oil and gas, transmission, land development, and ecological restoration sectors for 22 years, allowing us to refine innovative methods for customized vegetation management plans, especially those tailored to benefit wildlife within a project area while minimizing operational management efforts.
Reach out to (email hidden; JavaScript is required) to learn more about solar pollinator planting in practice.
Eager to learn more about your region's pollinators and favorite native plants? Download our Pollinator Guides!