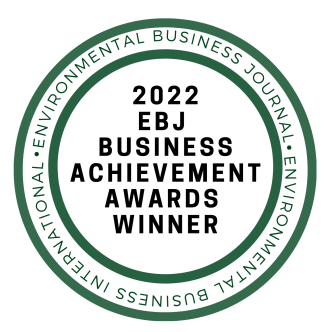 SWCA has received three 2022 business achievement awards from the Environmental Business Journal (EBJ) in the categories of business achievement, new practice, and diversity and inclusion.
The first two awards SWCA won, Business Achievement: Gold Medal Award, Large Firms ($100 million+) and New Practice Award: Response Management, speak to the organization's growth in 2022. SWCA had a record-breaking year of growth in 2022, surpassing $235 million in sales, shattering sales goals, and increasing revenue by 27% from 2021.
SWCA also hired an established group of nine environmental consulting professionals and opened a Philadelphia, Pennsylvania, office to support clients across the country with new services in Natural Resource Damage Assessments (NRDAs), natural resource economics, and strategic environmental spill response management.
"At SWCA, we never settle. These awards reflect our outstanding growth last year by being at the forefront of the environmental industry while expanding our nationwide presence and service offerings," said Joseph J. Fluder, III, CEO and President of SWCA. "None of this success is possible without each and every person that's a part of SWCA working hard, embracing our core values, and delivering for our clients."  
SWCA also received the Diversity & Inclusion Award: Future of Work Workplace Model for launching a companywide workplace model that emphasizes flexibility, adaptability, and equitable support and development for all employees. The Future of Work Taskforce listened to employees at all levels of the organization, developed resources for supervisors and employees alike, and planned a series of communications to ensure a successful rollout. SWCA's spring 2022 engagement survey reported that 93% of employees were satisfied with the approach to the Future of Work model.
"SWCA has offered flexible workplace arrangements for years, but the pandemic encouraged us to formalize the model," said Norma Crumbley, Senior Vice President of the Rockies Region and Future of Work Taskforce Lead at SWCA. "Our Future of Work model enables us to hire the best people and retain high-quality talent, regardless of location, so we can do our best work for clients."
See more details on EBJ's 2022 Business Achievement Awards webpage.
See more of SWCA's industry awards and rankings here.