Iynna Baker, a co-lead of the Black Employee Resource Group at SWCA alongside Dorrana Stewart, discusses Black history and culture, supporting her family and community, and her goals with leading the ERG.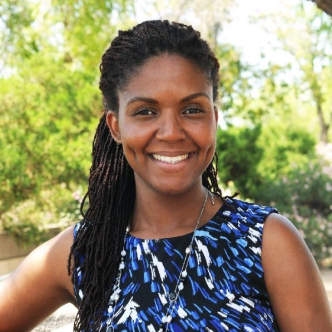 Q: Hi, Iynna! Thank you for sharing your time with us today. Would you like to get started by telling us about yourself and your career?
A: I'm from San Diego, where my career started in the private security industry. I earned my bachelor's degree in Criminal Justice with an emphasis in Security Management. When I worked as the District Support Manager for a security company, my role became focused on human resources – which I didn't expect. Then, the company underwent a huge merger, and I was suddenly in charge of HR for over 3,500 employees. I started traveling all over San Diego to put out fires, and I was grateful for the opportunity, but I was burning out.
I moved to Phoenix in 2018. After about a year of legal work and employee relations at a printing company, I found my way to SWCA, and now I've been here for three years. As People Support Manager, I support HR compliance with required federal reporting such as affirmative action and veterans' affairs, employee accommodations and ergonomics, leaves of absence, and more.
 
Q: What are your favorite things to do outside of work?
A: For me, it's all about family. I've got a little one and a 14-year-old, so I spend a lot of time with them outside of work. I'm on the board of The Black HR Society as the Co-Director of Branding and Communications. We meet weekly and host events to support fellow Black HR professionals, network locally in Phoenix, and support opportunities for career development.
My family owns a business called New Age Vision. We sell a natural and organic skincare line and traditional Ghanaian waist beads. Our business is already two years strong!
Q: How did you start leading the Black ERG, and what does leading the group mean to you?
A: I started in the ERG as a member, and Dorrana Stewart had already built such a fantastic, well-established group. We have excellent meetings, with great guests and content, and I always feel enriched afterward. When the leadership opportunity came up in April 2022, it was a no-brainer for me.
Leading this group is important because being Black in a corporate space can be tricky to navigate. I value the opportunity to support and provide guidance, as well as receive guidance. I want to foster a space for that.
Q: What are the goals and activities of the group?
A: Last year, we hosted guest speakers who presented on financial literacy, laws, and election voting, Black women's maternal health, and the personal benefits of gardening. We covered a lot last year. We are planning to talk more about Black health and bring in the benefits team to support us with open enrollment. This year, we also want to focus on youth and what's happening in current times. We want to talk about what's impacting Black youth and what we can do to support youth. We started sharing the amazing things that Black youth are doing to push important movements forward – we named this initiative Young, Gifted, and Black.
Q: What would you like people to know about your culture and history?
A: I celebrate my culture by learning and going to museums. The United States' education system is purposely choosing not to tell the truth about our history, so I make it a point to educate myself. I like to go out into my community and participate in Black and cultural festivals. I spend time with my elders, bonding by listening to their stories and experiences. I support Black businesses and contribute to my community as a resource, mother, sister, and friend. I bring other community members into spaces where they can thrive and feel appreciated and valued. I celebrate by trying to be the best version of my ancestors.
I would like people to know that our culture and history did not start with slavery. We were thriving, wealthy communities before slavery. We were educated and spiritual. We were mothers, fathers, warriors, friends, family members, queens, and kings. I want people to know that we didn't lose any of that with slavery. We still have all those skills. We are an extremely passionate, open, welcoming, and loving community. We love our kids. We raise our kids to be strong, smart, and safe. At the heart of every Black community is the family and how much we value our families. We have traditions and spirituality that we cultivate in our families.
I also want people to know about the connection that we keep with our past. We're so connected to our ancestors. We passed down our history and culture through word of mouth – because we either couldn't keep our traditions in practice, or we weren't able to write them down. I want to share the fact that we have so much that we passed down, which we celebrate in our own unique ways.
Q: How can individuals better support and be allies to the Black community?
A: To be supportive, in corporate environments and outside of them, we want everyone to have the same expectations for us that they have for white counterparts. To support your Black colleagues at work, please consider your expectations. Don't expect us to work long hours, overperform, or be happy all the time. We shouldn't feel like we have to give more just to get a seat at the table. The expectations for everyone should be the same.