Following a devastating hurricane season in 2018, the North Carolina Department of Transportation (NCDOT) partnered with SWCA to stabilize and restore a particularly vulnerable portion of highway using a living shoreline.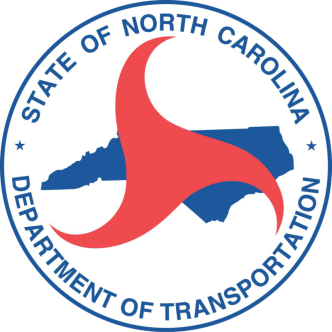 Modeling by NCDOT's Hydraulics Unit showed that in the likely event of a future hurricane, a 830-foot section of shoreline along NC 24 in Swansboro, North Carolina, could become unstable and lead to the roadway becoming unsafe for residential evacuation. The roadway's designation as critical infrastructure and a primary evacuation route led NCDOT to emphasize the need for increased resiliency measures.
As lead designer on this project, SWCA detailed plans for the creation of a living shoreline and coastal restoration efforts. Thanks to grant funding from the National Fish and Wildlife Foundation (NFWF), along with funding by NCDOT, these designs have now come to life.
As NCDOT's first living shoreline, this project serves as the pilot for a more extensive resiliency program to address North Carolina's coastal erosion with nature-based solutions.
Living Shoreline Design: Nature's Blueprint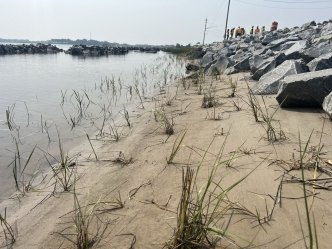 New Saltmeadow Cordgrass plantings for living shoreline along NC 24 in Swansboro, North CarolinaLiving shorelines are a nature-based approach to bolster coastal areas that are susceptible to erosion from sea level rise, natural disasters, and human activity. Made of native vegetation and other natural materials like oyster reefs and rock sills, living shorelines are an alternative to conventional, hard shoreline stabilization methods like stone bulkheads or sheet piling that can degrade essential habitat. Using nature to stabilize shorelines protects, restores, and enhances the surrounding ecosystem.
"Natural designs like living shorelines are a more resilient, cost-effective, and sustainable approach to stabilizing coastlines that all aspects of the ecological restoration industry — consultants, municipalities, government agencies — are moving towards," said Kelli Gallt, lead designer and an associate project restoration engineer at SWCA.
These green infrastructure techniques provide numerous benefits in addition to shoreline stabilization, including providing essential habitat structure, increasing biodiversity, and improving water quality and aesthetic appeal. And, unlike hard shoreline methods, living shorelines are dynamic systems that can self-repair, grow, and flourish with little to no maintenance. 
Small but Mighty, Oyster Shells Quell Storm Surge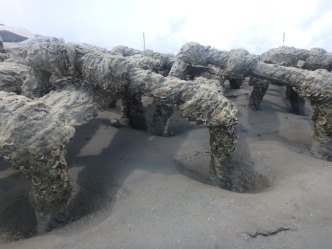 Artificial oyster reef structure already recruiting Oyster LarvaeConstruction for the NC 24 living shoreline project kicked off in the winter of 2022 and was completed in the spring of 2023.
The process required removing the previously installed hardened shoreline of stone and asphalt, restoring tidal marsh vegetation, and installing artificial reef structures created from natural materials, like woven coconut husk fiber.
When placed in the water, these structures begin to recruit oysters after several months and biodegrade over time to leave only the oyster colony. Within a year or two, the original structure is unrecognizable. The oyster colony works with the marsh vegetation to reduce the impact of wave energy hitting the shoreline and serves as a natural buffer against storm surges and sea level rise. 
SWCA's design approach began by identifying the conditions that ultimately led to the shoreline erosion and impairment and studying other stable shorelines that shared similar conditions. Pairing this knowledge with accepted engineering design standards, the team developed the foundational parameters for the design. 
"Building living shorelines along NC 24 strengthens the ecological integrity of the entire coastal ecosystem," Gallt said. "It will help to fortify the roadway so that Carteret and Onslow County residents have more resilient, accessible, and functional infrastructure during natural disasters."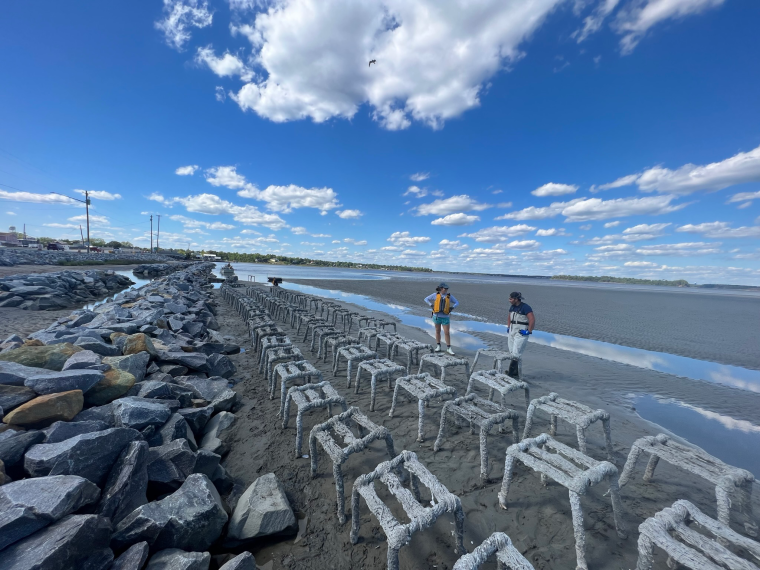 Artificial reef structures (right) created from natural materials, like woven coconut husk fiber.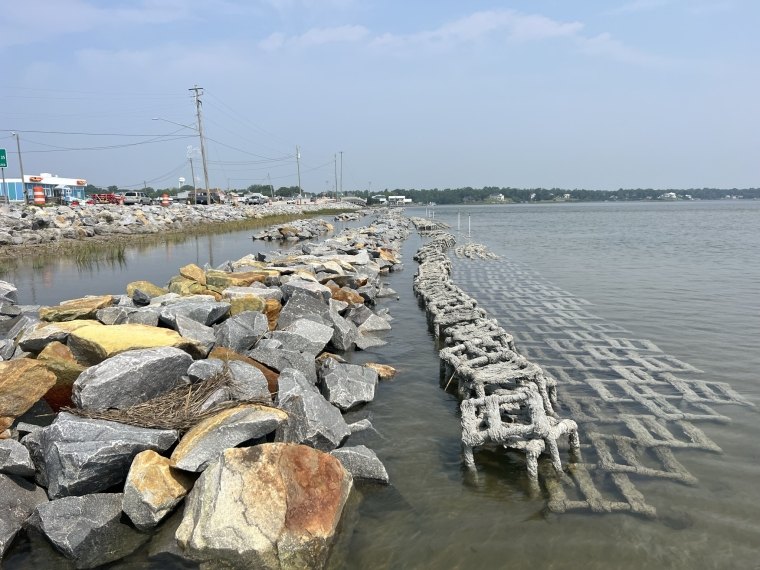 Artificial reef structures (right) created from natural materials, like woven coconut husk fiber.
Diverse Partnerships and Proactive Approaches for Coastal Resiliency
The North Carolina Coastal Federation and Carteret Community College partnered with NCDOT to apply for the $1.6 million NFWF grant and contributed to the project's public education and outreach efforts.
"It has been an honor partnering with the Coastal Federation on this project. They have such an influence in coastal North Carolina and have played a huge role in communicating this project to the community," said Josh Allen, project manager and principal restoration engineer at SWCA.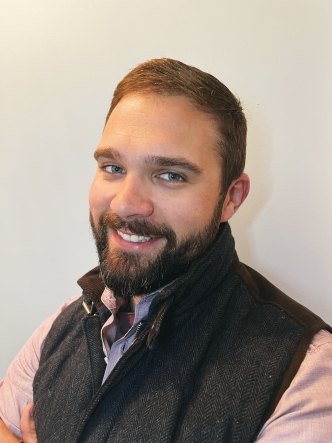 Josh Allen, project manager and principal restoration engineer at SWCASince the grant extends beyond this project to include more expansive resiliency efforts throughout the state, NCDOT continues to take active measures to build on this success and prepare for and mitigate the risks of future natural disasters.
SWCA continues to assist NCDOT with feasibility assessments of several new potential sites to implement living shorelines.
"There is a lot of federal funding coming to improve the resiliency of our country's coastlines. Using nature-based solutions to mitigate climate-driven disasters will become a much bigger need in the next few years, particularly as education and awareness around these practices continues to grow," Allen said.
"Growing up in North Carolina and going to these beaches, you take ownership of these areas that have given you so much joy in your life and do what you can to protect them." – Check out a full spotlight on Project Manager Josh Allen here.