An archaeological investigation in Texas Hill Country 
Drawn by plentiful resources found along the Llano River, prehistoric peoples camped and thrived on the adjacent river terraces for thousands of years. Evidence of their activities accumulated, forming a significant archaeological resource, the Llano River Crossing Site, located south of the City of Mason in the west-central Texas Hill Country. 
The development of a new bridge to cross the river along an existing roadway had the potential to affect the area so the Texas Department of Transportation (TxDOT) turned to long-standing partner SWCA. With a relationship spanning decades, TxDOT selected SWCA to mitigate impacts through an extensive and innovative archaeological investigation. 
SWCA assembled a team of seasoned Texas archaeologists well-versed in the regulatory requirements of the Antiquities Code of Texas and the National Historic Preservation Act, including Kevin Miller, Steve Carpenter, Tina Nielsen, and geoarchaeologist Ken Lawrence, to tackle this challenging project.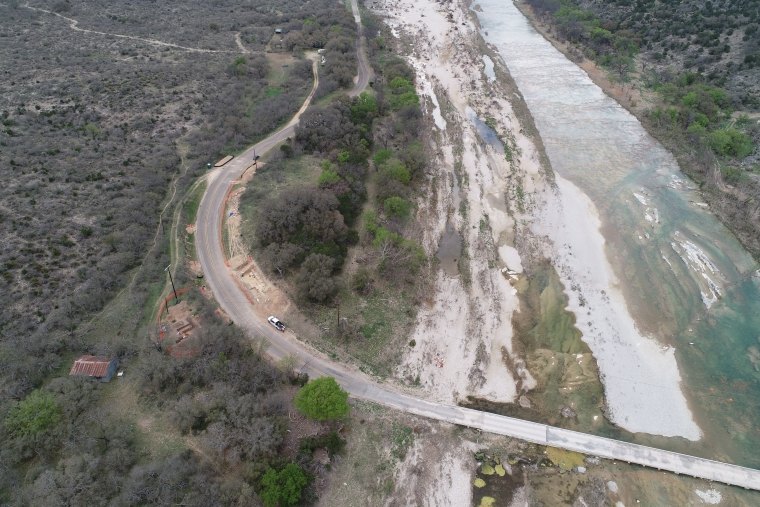 Aerial drone imagery of the Llano River Crossing Site; view facing upstream of Llano River.
Defining a new approach to a deeply stratified and split archaeological site 
The complexity of the Llano River Crossing Site didn't intimidate SWCA archaeologists. The project meant working within a heavily trafficked existing right-of-way on vertical profiles up to seven meters high while experiencing challenging weather conditions from snow and ice to heavy rains on any given day.
With safety top of mind, the team developed protocols to provide a safe excavation zone with traffic controls, safety barriers on slopes where excavations occurred, and the use of personal harnesses when team members were on the steepest sections.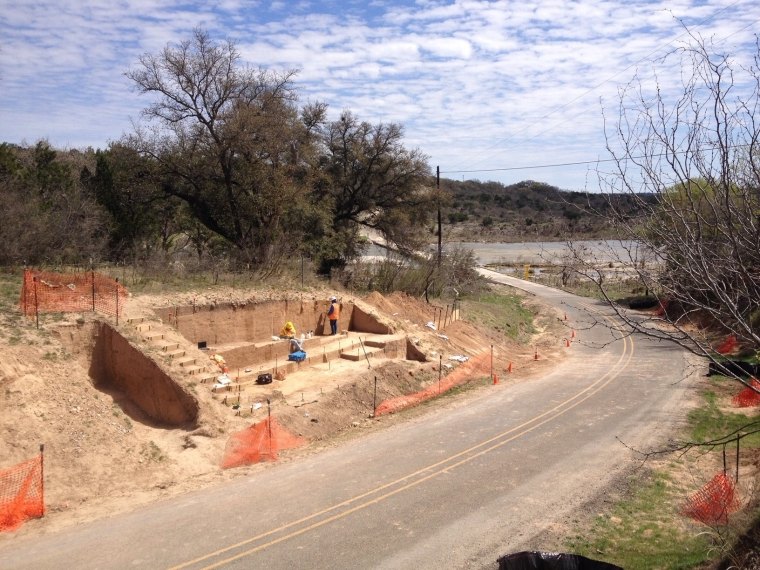 SWCA CREW MEMBERS PREPARE THE LAST DETAILS OF THE ARCHAEOLOGICAL INVESTIGATION AS THE TEAM COMPLETES EXCAVATIONS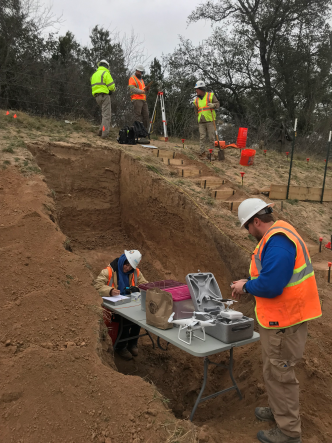 SWCA DRONE PILOT PREPARES TO CAPTURE AERIAL IMAGERY OF THE LLANO RIVER CROSSING SITEA deep roadcut also created a wide gap through the site, presenting the technical challenge of correlating cultural strata and artifacts from either side of the roadway. Undeterred, the SWCA team combined geoarchaeology expertise with magnetic susceptibility analyses and optically stimulated luminescence dating to connect the discontinuous profiles and excavation blocks. Additionally, drone technology provided broader views of the terraces and landscape at the site, specifically using digital elevation model technology and mapping. Using these geoarchaeology and mapping techniques, SWCA was able to reconstruct the site stratigraphy holistically and correlate numerous burned rock cooking features and stone tools to specific occupations at the river over time.
Using sound science and creative solutions, SWCA successfully excavated 120 cubic meters of site deposits in 44 consecutive days and completed a detailed geoarchaeological analysis. An achievement made possible through the large number of colleagues SWCA brought to bear on the project, drawing from four Texas offices and the largest cultural resources team in Texas.
Staying safe and on schedule 
SWCA's team of experienced archaeologists, geoarchaeologists, and cultural resources specialists completed the large-scale Llano River Crossing Site excavation with no safety issues while adhering to an accelerated project plan, allowing TxDOT to stay within an aggressive schedule.  
Despite the site's fragmented nature, SWCA's creative data recovery excavations revealed and recorded incredible details of prehistoric life along the river for thousands of years — that would have been otherwise lost — preserved for the next generation.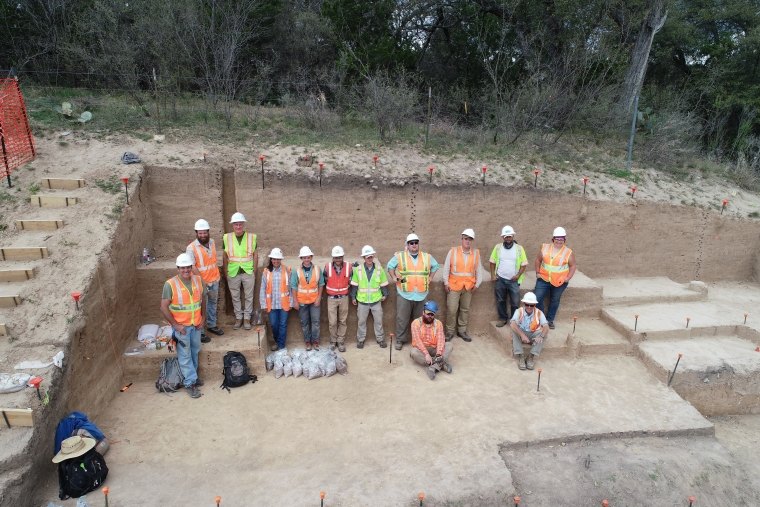 PART OF THE SWCA TEAM AT THE COMPLETION OF THE LLANO RIVER CROSSING SITE PROJECT