With the ability to combine authoritative maps with text, images, and multimedia content, GIS web mapping technology, such as Story Maps, can be used as an effective tool to increase and strengthen meaningful opportunities for public engagement and inspire the intended audience.
The City of Corona, located in the heart of Southern California, was recently deemed a "High Risk Community" by the California Fire Alliance. With significant wildland fire history and a Wildland Urban Interface (WUI) that borders the forested and fire-prone Santa Ana mountain range, the City of Corona is a prime example of a community faced with the need to prepare for inevitable wildfire events.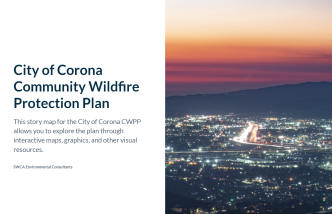 Click to learn more about Community Wildfire Protection PlansThe combination of population density, weather, and growing residential and commercial development presents a potential year-round threat of conflagration and increases the potential for further life safety issues. Facing the increasing threat of wildfire, the City of Corona sought to create a Community Wildfire Protection Plan (CWPP) for their Wildland Urban Interface, to serve as a framework for a comprehensive long-term resiliency plan. The plan is intended to guide future wildfire hazard protection strategies in communities and foster a regional collaborative approach, recommend mitigation strategies to reduce the risk of wildfire, and provide a methodology for monitoring progress and accomplishments.​​​​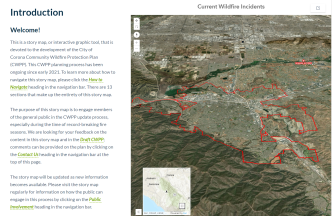 Click to see the City of Corona CWPP Story MapThe Story Map that SWCA developed for the City of Corona CWPP is one of several recent CWPP Story Maps meant to provide a web-based tool for illustrating data-rich, science-based information and engaging the public to both receive and provide information in an easy-to-use centralized interface. While CWPP documents on their own have the potential to become stagnant or overlooked in the contemporary technology-rich environment, Story Maps are easily accessible and navigable platforms for communities to engage a broader demographic. They provide opportunities for public education and outreach, public involvement and comment submittal, information regarding baseline wildfire conditions, mitigation approaches and opportunities, project recommendations, and risk assessment information, as well as recommended mitigation measures the public can incorporate in and around their own property to reduce fire risk and increase safety response.
Among the multimedia content incorporated into the City of Corona CWPP Story Map, some technical highlights include:
a) A 3D map that shows current wildfire incidents and thermal hotspots in real-time in relation to the City of Corona.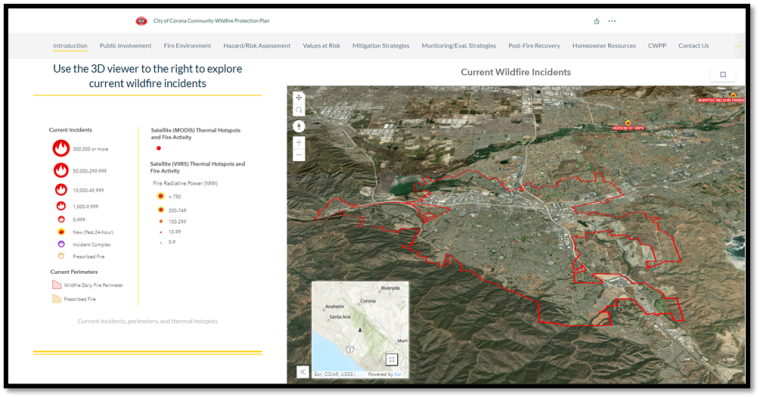 b) A map slider to explore the relationship between fire behavior fuel models and vegetation types.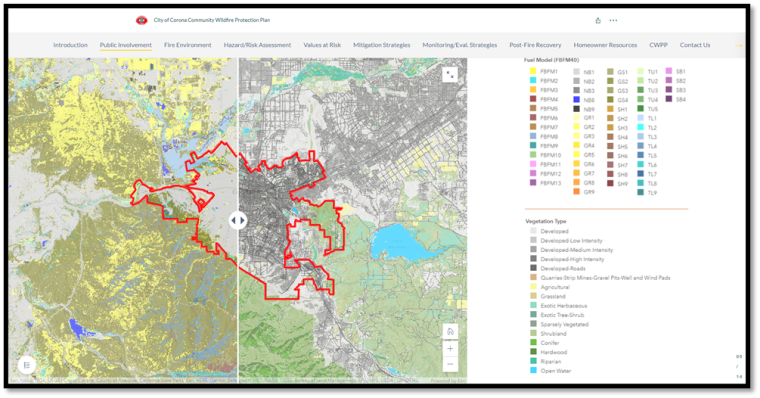 c) A dashboard with charts to visualize various variables related to fire history, including year, month, cause, and size, all of which can be interactively used to filter the data shown on the map.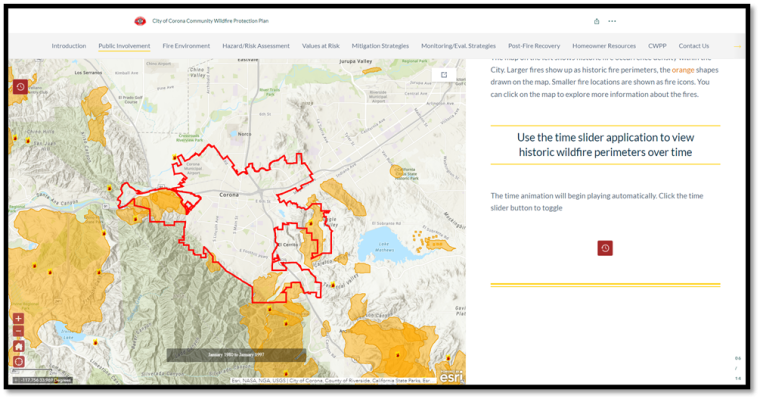 d) A hazard and risk assessment slideshow, which takes the user on a tour of the threat areas within the City of Corona, and dynamically displays the assessed risk rating, positive and negative characteristics of each area, and recommendations to increase wildfire preparedness.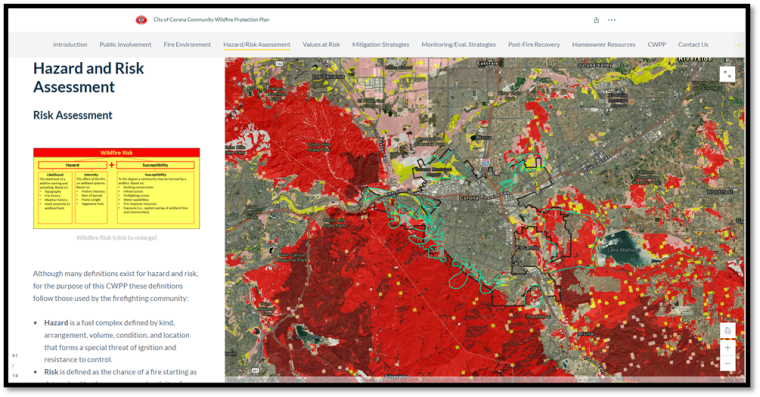 In addition to the Story Map, SWCA developed an ArcGIS Hub to serve as the central landing page for the City of Corona Wildfire Protection Plan and associated Story Map. Here, the public can take a community survey, view public meeting schedules and announcements, and access resources for homeowners.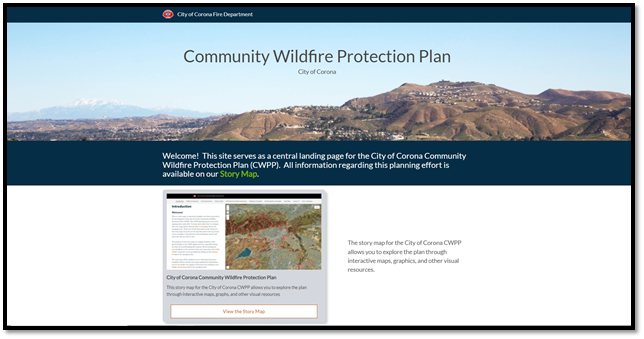 The Hub also includes a page that can be internally accessed by the City of Corona task force, meant to track ongoing efforts to prepare for, adapt, and respond to wildfire. The page includes a Survey123 form-based interface for entering new projects into a project dataset, as well as a project tracking dashboard to view and update existing projects.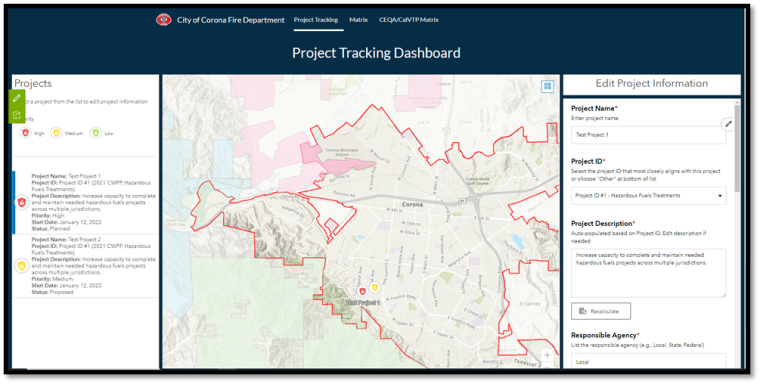 Take the Next Step
Request more information about our GIS, Story Map, or Wildfire Planning services.
(email hidden; JavaScript is required)