The Mission San Gabriel was founded, in what is today San Gabriel, CA, by Franciscan priests at the end of the 18th century as part of Spanish colonization of Alta California. The Mission is very important in the history of California and to native peoples as well.
By the 20th century, the Southern Pacific railroad was built across what had been occupied by the Mission's irrigated gardens and industrial work areas. With growth and development of the San Gabriel Valley, the at-grade rail line became a safety hazard, causing traffic congestion as trains moved through road intersections. The Alameda Corridor East (ACE) project constructed a 2.2-mile trench to allow the rail line to pass below, separated from surface auto traffic, thereby eliminating the conflicts and safety issues.
While the ACE project had very clear benefits for the people of the San Gabriel Valley – its sole purpose was such—there were numerous obstacles to its implementation, including the presence of significant cultural resources and an extensive regulatory and community consultation process. Because of these issues, the project had stalled for over a decade.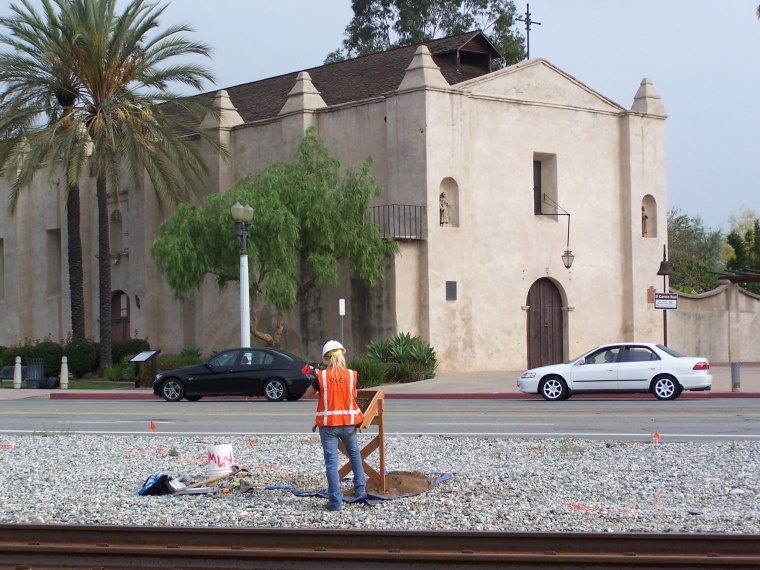 SWCA was engaged to get the project back on track in 2008, and our first step was to lay out options for the client following Section 106 of the National Historic Preservation Act (NHPA). This involved a complex series of regulatory actions, cultural resources surveys and evaluations, mitigation, and monitoring. It also involved engaging with local stakeholders, including Native American communities. During construction monitoring, an unmarked mission period cemetery was discovered. SWCA recovered and repatriated more than 100 burials and developed a plan to protect the remaining burials in place. The project also excavated the foundations of a nineteenth century mill that gave insight to the dawn of the Industrial Revolution. SWCA stabilized and moved the mill race foundation, preserving it in a public park in front of the mission as an educational display providing a tangible link to California history.
As a direct result of SWCA's involvement, the ACE project is under construction and a much deeper and more complete understanding of the San Gabriel Mission has been developed. The SWCA team spent thousands of hours working to bring this project to success. SWCA shared the results of our studies as broadly as possible, engaging with the public and scholars through onsite tours, radio and television interviews, webpages, and publications. A beneficial project is proceeding and significant resources have been documented and preserved, thereby fulfilling SWCA's stated purpose: to preserve natural and cultural resources for tomorrow while enabling projects that benefit people today.
Update: SWCA published a book as a result of this project. To learn more and download the e-book, click here.