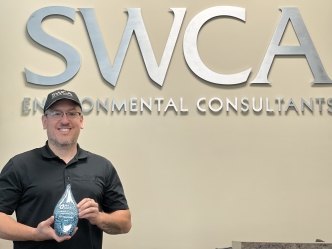 SWCA has recognized Eric Munscher, Natural Resources Team Lead for the Gulf Coast Subregion, as the 2021 Steven W. Carothers Scientific Merit Award winner. The Steven W. Carothers Award honors a scientist following in the footsteps of our founder by applying sound science to maintain our professional credibility, develop our business strategy, and successfully evaluate and pursue new lines of business. It is awarded annually to one of the four quarterly Larry Semo Scientific Merit Award winners.
Eric joined SWCA more than 14 years ago as a field biologist. Currently serving as Natural Resources Team Lead in the Houston office, Eric manages and provides technical assistance on a variety of complex wetland delineation and protected species projects throughout the Gulf Coast Subregion. Eric also spent time working in SWCA's Pittsburgh office.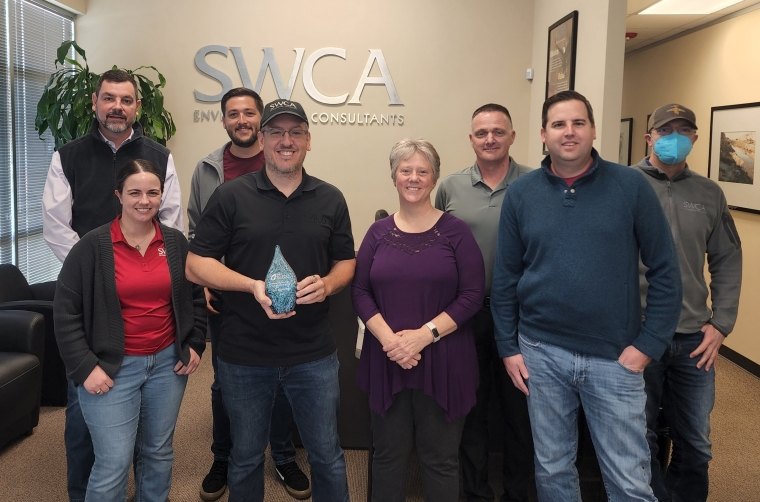 Exemplifying SWCA's core values, Eric Never Settles to further the scientific understanding of the various ecosystems SWCA works in, while encouraging his colleagues to share this passion. He serves as a lead chairperson of the Science Leadership Program, a mentor to junior level technical staff (One SWCA), and is an active member of Houston's Gives Back and Spreading the Science efforts. His Always Learning mentality is evident in his daily project work and his continued herpetological research, publishing over 40 research articles and research notes on various freshwater turtle species. Read more about Eric's recent efforts to begin a 10-year turtle study in Belize.