Originally published at Comparably.com
Joseph Fluder found his start in business after beginning his career in teaching. With more than 19 years of experience in his tenure at SWCA, he brings influences from his childhood in the Chicago area into his professional life. 
Fluder's father was a second-generation truck company owner who took over the business from Fluder's grandfather. Throughout his upbringing, Fluder believed he, too, would run the family business but decided on a different route as he entered the working world. 
With great interest in geology, geography, and earth science, Fluder knew he wanted to seek an education in science. So he told his father he wanted to attend college and study environmental science. 
Fluder committed himself to school and earned his undergraduate degree from Illinois State University with a major in Geography and Geology. After graduating from ISU, Fluder ventured west to seek his graduate degree. 
As a result of living in the Southwestern United States, Fluder became intrigued by the region's water issues. He found himself at the University of New Mexico, where he finished his Master's Degree and began to pursue his Ph.D. 
Fluder's initial intentions were to start a career in education, teaching others as a college professor while researching on the side. He taught at the University of New Mexico for two years, then shifted to the local community college. 
Everything changed for Fluder when one of his friends from graduate school brought SWCA to his attention. 
"A former graduate student buddy of mine called me and said, 'Hey, you should check out SWCA.' 
'What's SWCA?'  
'Well, it's environmental consulting.' 
'What's environmental consulting?' 
"I had no idea what it was," says Fluder. 
Though not the most lucrative offer Fluder received at the time, he and his wife were still trying to find their long-term path and faced with a fork in the road. 
"Something just felt right about SWCA," says Fluder. So he took on the role the organization offered to him.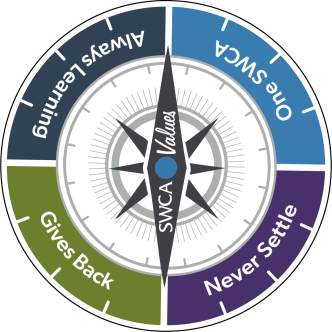 During his time at SWCA, Fluder has focused on building the company's culture around four core values:  
-Teaching and learning,
-Being collaborative,
-Giving back,
-and Never settling.
Through these core values, he believes they've created an organization where employees feel inspired to be themselves and driven to do their best, most creative work. 
At SWCA, new and tenured employees work together to help everyone stay up-to-date with industry best practices. Fluder says, "Our founder, Dr. Steve Carothers, is still engaged with the business over 40 years later. He's created the company and culture, and we continue to carry that forward. No matter what level of the organization you're at, you have that commitment to learning from those around you and getting better."
The second core value, collaboration, brings out the best in each employee's creative side. Working together to inspire each other toward great ideas helps the organization achieve its goals and offer value to its clients. 
"We live [collaboration] day in and day out; about 30% of our work is shared between offices. And we know if we're working collaboratively, as an organization, we're delivering higher quality for our clients. We're providing more opportunities for our employees to get that experience. At SWCA, being collaborative is a big part of our culture," explains Fluder.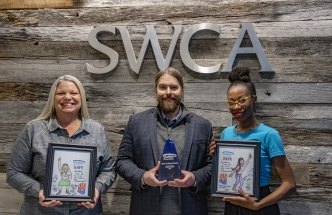 Joseph presenting the annual "Have a Heart" award to the Phoenix office in recognition of their outstanding efforts in the Gives Back program.Fluder also believes that giving back is essential to running a business that offers value to clients and employees. "We're focused on volunteering in our local communities, and we elevated that to a national program about ten years ago. It's a big part of what we do, and how we create value is by giving back to the communities where we live, work, and play. So it's very important for this company."
The final core value, and Fluder's personal favorite, is to never settle, which drives employees of SWCA to bring their best attitude and performance to the workplace every day. By staying focused on delivering quality services, employees of SWCA are able to stay motivated and achieve their professional goals.  
Along with its four core values, SWCA operates with a purpose statement, which has held true for many years at the company. 
"[Our purpose statement is] to preserve the natural and cultural resources for tomorrow while enabling projects that benefit people today. Because folks go, 'Why are you going to do that job for an oil and gas company?' Well, it's ecological restoration, its operations and maintenance, or renewable energy or transmission projects. So we need to remember our purpose because we are a consulting company," says Fluder. 
Fluder describes the company's overarching goals as their "North Star," guiding them in the right direction at all times. Through their core values and their company culture, SWCA fosters an environment where employees are motivated to perform at their very best. 
While many of SWCA's competitors are publicly traded or private equity-owned companies, their organization remains employee-owned. Through this, employees feel like their voices are heard, and their opinions are reflected in how the organization operates. 
Between 2018 and 2020, SWCA began to focus on creating career development programs and offering career pathing for the organization's employees. SWCA implemented these programs internally, scaling them to employees in the HR department for delivery. 
Fluder says that at SWCA, "it's about the people." He says they want to develop their people and care about investing in current members of the team. 
"We intentionally put a lot of resources into our career development landscape and program, and now we have those opportunities where employees are clear on what the expectations are and how they can get different places within the organization," says Fluder. 
Another core part of SWCA's commitment to excellence is its Science Leadership Program (SLP). The SLP has existed for nearly 15 years, offering mentoring and community-based opportunities for scientists.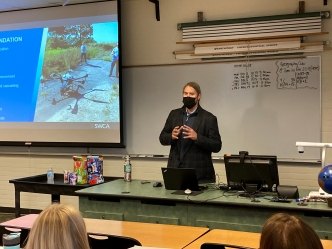 "Spreading the Science" to undergraduate students in the Department of Geography, Geology, and the Environment at Illinois State University, Fluder's alma mater.The Science Leadership Program has a series of brown bags across the organization, giving their scientists and technical folks a platform to share some of their research and the work they're doing. They have three current levels within the SLP – Enterprise Scientist, Regional Scientist, and Scientist.) They also focus on developing not only scientists but consultants as part of its business. 
Alongside prioritizing opportunities for education, mentorship, and development, SWCA places a strong focus on inclusion in their organization. Fluder says they started by researching what other companies in their field were doing to enhance their inclusion and diversity initiatives, taking inspiration to create their own at SWCA. 
"I wanted to lead with inclusion instead of leading with diversity," says Fluder. "I wanted to create an inclusive environment for all."
"We're 57% female while the average in our industry is about 30 percent. We have female representation at all levels of the organization, including three of our board members, our board chair, and at Executive, VP, and Director levels," Fluder proudly shares. "We know that we have room to grow in other areas, so we're looking at what we can do to continue to improve, whether it's from the pipeline, on how we bring in candidates, how we do our internship programs, potential scholarships, and how we do our give-back events."
See SWCA's company profile and rankings at Comparably.com and read more about our Best Place to Work Awards in 2022 Q1 and 2022 Q2.