We sat down with Annie Lutes, Cultural Resources Team Lead and Co-Lead of SWCA's Mental Health Matters ERG to talk about how mental health comes into play at work and being an empathetic listener.
Hi, Annie! Thanks for joining us for a conversation about mental health. Would you like to get started by telling us about yourself and your career?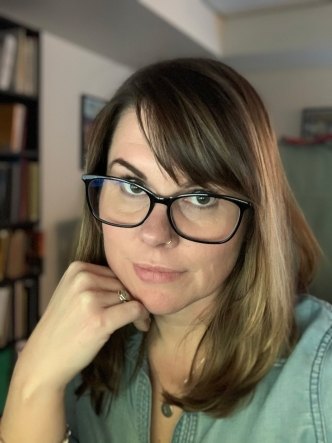 Annie Lutes, Cultural Resources Team Lead and Co-Lead of the Mental Health Matters ERG at SWCA.A: I was born and raised in Michigan, and I graduated from the University of Michigan with the intent to be an archaeologist in the Middle East. I moved to Tucson, Arizona, and received my master's degree from the University of Arizona in Middle Eastern studies with a concentration in Arabic language. I worked for another environmental consulting firm as their archaeological lab manager for 2 years, but I was really planning on working for the Central Intelligence Agency (CIA) with my Arabic language skills. However, after some time I decided to forego a career in intelligence. I moved to Jerome, Arizona, and worked as the town zoning admin, historic preservation officer, and planning director. I pursued a second master's degree at Northern Arizona University while I worked at the Coconino National Forest as an archaeologist.
I began working at SWCA's Flagstaff, Arizona office as an environmental planner in 2013, and I've been here ever since. When I joined the team, I helped rebuild Flagstaff's Cultural Resources program after the recession and I worked my way up to my role now, a Cultural Resources Team Lead. I lead a team in archaeology, architectural history, NEPA, and environmental planning. I learned architectural history on the job over the past decade from my mentors Anne Oliver and Jim Steely. Working within the program that I helped build is one of the highlights of my time at SWCA. 
Q: What are some of your favorite things to do outside of work?
A: I love exploring through hiking and backpacking. I've been an avid rock climber and runner, and I'm getting back into both. I recently moved from northern Arizona to the Midwest, so the outdoor recreation opportunities are different here, but I'm excited to explore. I'm much closer to my family and glad to live near my loved ones; but I must say, I do really miss Flagstaff! For me, there's nothing like living an hour from the Grand Canyon.
One of my biggest passions is serving as a certified volunteer end-of-life doula, also called a death doula. I volunteer to be there as a companion for people who are dying or experiencing terminal illness, and I help with non-medical end of life planning. Many people aren't familiar with death doulas yet, but I've noticed that people are starting to seek the holistic support of death doulas more commonly. It means a lot to me to help people in this way.
Q: How did you start leading the Mental Health Matters ERG?
A: I've also been an ERG member from the start! I joined the group because I've had some low points in my life related to my mental health, and I wanted to make it a priority and regular activity to focus on self-care mentally. A few members of the ERG were the first people that I disclosed my disorder to, and it was really liberating. I quickly made connections in the company with the same disorder as me. Now, those are genuine friendships. 
However, the ERG is for everyone, no matter what diagnosis you do or don't have. I decided to begin leading the group because of my passion to provide support for people who are going through loss. Being a death doula allows me to step out and really help people in the ERG who are dealing with death and dying. We all experience the loss of someone we love, and this can directly affect how we present ourselves and keep up with our tasks at work. Mental health comes into play at work whether someone's going through trauma, loss, receiving a new diagnosis, finding the right balance of medication, and so many other ways. I'm grateful I can co-lead the group with Randi and provide support and resources to our group members.
Q: What are some of the goals and activities of the group?
A: Our focus is to embolden employees to tell their supervisors and coworkers what's going on with their mental health, because no one is immune to mental health struggles. We hold regular calls for people to just be themselves and talk about what's going on in their life, and we offer resources for employees who want to focus on their mental health but aren't inclined to join a call. 
We also aim to increase general mental health awareness, so that others can recognize when someone is struggling and support that person. We are person-centered at SWCA already, but we'd like to see further improvement to our culture around mental health because it makes a real difference in people's lives. Distress is isolating, but we want all SWCA employees to know that they are never alone.
Q: How does being a part of the ERG personally benefit you?
A: It's been such a source of support, both personally and professionally. You're not a supervisor. You're not a direct report. You're somebody at SWCA, and we're all equal.
Self-care is active kindness to yourself, and I'm a firm believer that joining an ERG can be part of one's self-care process at work. I also believe that peer support is one of the most powerful and effective means of support. It's so nice to dedicate an hour every month to supporting both myself and others.
Q: As #OneSWCA, how can we be proactive allies to colleagues who are experiencing mental health challenges?
A: One of the most important ways that anyone can be a proactive ally is to become an empathetic listener. It's also called non-judgmental listening and is taught in mental health first aid. In essence, you don't need to relate directly with what someone's going through to listen without judgment.
Focus on your language and actions. Statements like "the weather is so bipolar today" are hurtful. Avoid words that associate a mental illness with something it's not – crazy, psycho, spaz, OCD, ADD, and many other words like these are tossed around casually in conversation and we should be more mindful of words we use with each other as we do not know what others may be going through or struggling with in that moment.
I'd like to see attention brought to diversity, equity, and inclusion (DEI) as it relates to mental health among our ERGs. Mental health impacts social groups differently, whether for BIPOC, the LGBTQ+ community, veterans, women, caregivers, and more. I want to emphasize that it's important we understand the unique intersectionality between mental health and other layers of one's identity.
Finally, shatter your stigma! There have been instances where employees are dealing with mental health challenges, and it has been misinterpreted as a measure of one's ability to accomplish a job task or performance when working with a team. I encourage all to break out of the box and learn more about how to be a proactive ally to someone experiencing a mental health challenge.