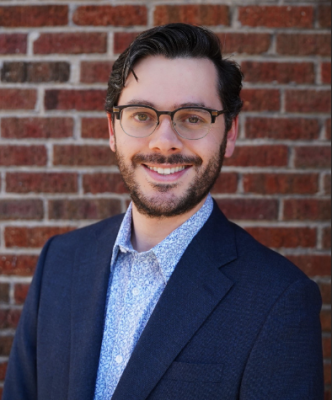 Aaron Roper, an associate project geospatial scientist out of SWCA's Denver office, has been named the Lawrence S. Semo Award winner for the first quarter of 2023.
Joining SWCA in 2018, Aaron has fully embraced the OneSWCA spirit by integrating geospatial services and spatial analytics tools across our natural resources and cultural resources projects. Aaron's commitment to SWCA's values and the environment, and his passion for disseminating scientific knowledge and exploring new technologies, foster a strong scientific and innovative community!
Scientific excellence and leadership
Aaron's field of expertise is in the application of geographic information systems (GIS) for water resources solutions. Having attended a visual arts high school, his passion for the environment and desire to solve environmental issues led him to shift toward environmental studies in college and graduate school. "When I learned about GIS, it was appealing to me because it exists at the intersection of science and art—it was the perfect combination of my interests," said Aaron.  
One of Aaron's favorite SWCA projects was working on a Community Wildfire Protection Plan for the City of Corona, California. The client was open to new technologies, and that encouraged innovation from Aaron and his team. "I really enjoyed configuring various online applications for the final deliverables, including a StoryMap, Hub Site, 3D maps, and dashboards," Aaron said.  
Aaron constantly explores new technologies and approaches to integrate into geospatial services and identifies efficiencies to deliver high-quality products and data analysis workflows.
Team building
One of Aaron's career highlights includes work for Denver Water, the public water utility that serves the City and County of Denver. The SWCA team prepared a watershed management plan, sediment management plan, and fire readiness and response plan. Aaron's work with this team over multiple projects allowed SWCA to develop a close relationship with the client and GIS employees. 
There is not a challenge too large or too complicated for Aaron and his team members to tackle, with a broad knowledge base of the applications we work with and the continued development of new geospatial and data management products to streamline our resource services. The curiosity and enthusiasm that he brings to project teams and his commitment to producing the highest quality work inspires us all. 
Aaron's advice to those pursuing a technical career track is: "Embrace the idea of sound science and creative solutions. Build a solid foundation in technical skills by developing a deep understanding of software, tools, and technology used in our industry. This foundation will enable you to provide sound science and creative solutions. Also, seek out creative solutions to complex problems. Creativity is essential for success and leads you to think outside the box, producing innovative solutions. Both will set you apart from others in your field."  
The quarterly Lawrence S. Semo Scientific Achievement Award rewards individuals for demonstrating passion, creativity, and scientific excellence in a manner that advances SWCA's purpose, mission, vision, and values. The award is in honor of Larry Semo, who began working as a biologist for SWCA in Austin in 1993 and transferred to Denver in 1999. A respected and widely published ornithologist and all-around naturalist, Larry had an insatiable desire to learn and a great love for the outdoors until his untimely passing in 2011.