Originally published by the Society for Ecological Restoration, ser.org
SWCA contributes to ecological restoration and channel stabilization plans on the Rancho Cañada unit of the Carmel River floodplain 
Originating in the central mountains of California, the Carmel River flows northwest through redwoods and evergreens, shrubby woodlands, and coastal prairie before emptying into the Pacific Ocean. The Carmel River contributes to a precious coastal watershed but years of agriculture, land development, and storm erosion constrained the river. Near the mouth of the river, residents experienced major flooding events in the 1990s. When the river wasn't overflowing, it was only a trickle due to overdraft of the aquifer beneath it.  Advocates have pushed to restore the floodplain and reduce flood risk for decades. Now, the Rancho Cañada Floodplain Restoration Project, on a unit of the Palo Corona Regional Park, is reviving the river.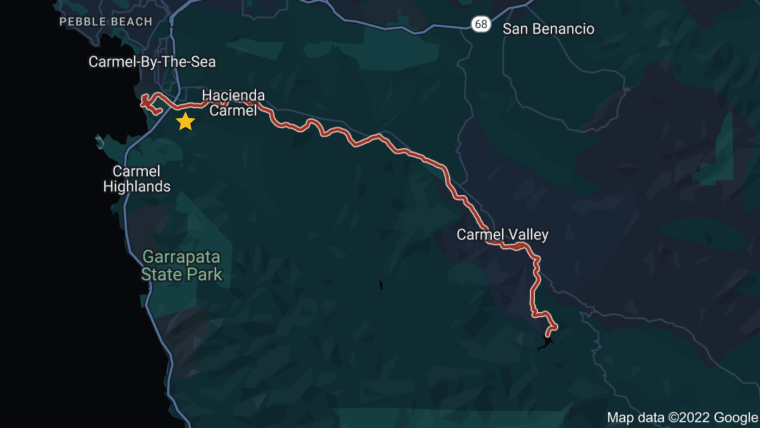 Map of the Carmel River (red) and the Rancho Cañada unit of the Palo Corona Regional Park (yellow).
The Carmel River comeback 
The Monterey Peninsula Regional Park District (MPRPD), California State Coastal Conservancy (SCC), Santa Lucia Conservancy, Trout Unlimited, Trust for Public Land, and numerous private and public funders rallied together to secure the former Rancho Cañada golf course as public land in 2018.  
Unified through collective goals to enhance floodplain connectivity and channel processes, foster sustainable habitat, retire pumping diversions from the aquifer, and reduce flood risk, an interdisciplinary group came together to advance restoration plans. A Technical Advisory Committee of federal, state, and local government allies, scientists from several research institutes, a representative from the Rumsen Ohlone Tribal Community, and other stakeholders gathered to advise on restoration planning throughout the entire process. The California State Coastal Conservancy also brought on SWCA Environmental Consultants and McBain Associates to partner on redesigning approximately one mile of the Carmel River. 
Laura Moran, SWCA's Northern California Vice President, describes, "I'm inspired by the large number of stakeholders weighing in and reaching consensus on sustained positive outcomes for the Rancho Cañada Floodplain Restoration Project. Our team at SWCA is honored to be a part of this project!" 
The Rancho Cañada Floodplain Restoration Project is one of two major restoration projects on the river; the Carmel River Floodplain Restoration and Environmental Enhancement Project (CRFREE) is also working to restore a portion of the lower Carmel River watershed.  
Restoring the floodplain and promoting connections with nature 
Recreation and restoration will exist in rare harmony at Rancho Cañada. The redesigned park will promote Earth science in a public setting with new trails, viewing areas, and experiences to educate about local restoration ecology.  
The design, which lowers the floodplain by as much as 15 feet, will allow the channel to meander and reach new spaces. Back channels and overhanging banks will create refuges and nurseries for the federally endangered Steelhead trout (Oncorhynchus mykiss), implementing recommendations of the Southern California Steelhead Recovery Plan issued by NOAA Fisheries.  
Linda Yamane, a representative of the Rumsen Ohlone Tribal Community, consulted with SWCA and McBain on the native plant species important to their heritage that they most want to repopulate in the area, and she provided insight on optimal growing conditions for each species.
The current revegetation plans include four of these chosen plant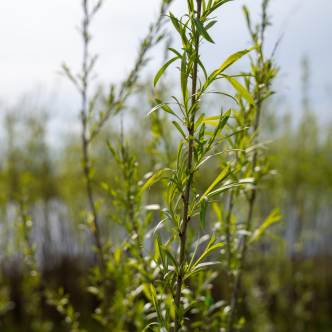 The Rumsen Ohlone Tribal Community's plant species selected for Rancho Cañada include Santa Barbara sedge (Carex barbarae), American dogwood (Cornus sericea), Sandbar willow (Salix exigua), and Smooth horsetail (Equisetum laevigatum). species. 
"Walking this site with Linda Yamane of the Rumsen Ohlone Tribal Community to learn about the plants and traditional practices along the Carmel River was a highlight of my 25+ year long career in riparian restoration. I was pleased to be able to design, for example, sedge beds near access trails to foster continued collections for cultural practices," says John Bair, Senior Riparian Ecologist with McBain Associates and revegetation design lead. 
Nearby communities will benefit from reduced risk of flooding for homes and businesses, new educational and recreational experiences, groundwater recharge, and the opportunity for a new Cal Fire staging area in the park. Mark Brandi, a Senior Restoration Ecologist at SWCA, shares, "Everyone involved is excited to create a space and opportunity for both people and wildlife to thrive." 
Additionally, the SWCA and McBain team helped with public outreach, grant applications, environmental review, and permitting for the project. 
The California Society for Ecological Restoration (SERCAL) hosted their 2022 Conference in Carmel Valley, featuring a site tour of the Rancho Cañada Floodplain Restoration project with presentations from Linda Yamane, McBain, the MPRPD, SWCA, Trout Unlimited, and Trust for Public Land. 
Calm waters ahead for the Carmel River floodplain 
Lauren Huff, SWCA's Northern California Ecological Restoration and Natural Resources Planning Director, emphasizes, "It was a pleasure to receive input from the Technical Advisory Committee, the Rumsen Ohlone Tribal Community, regulatory agencies, and research scientists to inform restoration ecology that can have significance in the park." 
SWCA is enthusiastic to support the Monterey Peninsula Regional Parks District in restoring this special part of the Carmel River floodplain. 

View of Carmel Bay from a trail overlooking the Palo Corona Regional Park.