Phoenix – SWCA announced today that Paul Burnett, cultural resources principal investigator in Fort Collins, Colo., is the first recipient of the Steven W. Carothers Scientific Merit Award.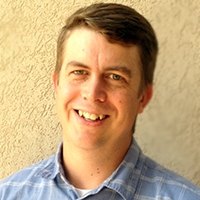 The award is designed to recognize individuals for demonstrating passion, creativity, and scientific excellence in a manner that advances SWCA's purpose, mission, vision, and values.
Paul started his career with SWCA in 2004, and has been a Science Leadership Program member since 2010. He is an archaeologist by training, and has specialized in statistical modeling in a GIS environment. His work has been used in modeling resources for historic properties, fire studies, desert tortoise research, and natural resource studies for Environmental Impact Statements. The robust models are applied for minimizing intensive resource surveys, and for providing statistically-defensible results.
The Steven W. Carothers award honors a scientist following in the footsteps of our founder by using excellent scientific skills to solve client problems. It is awarded annually to one of the four quarterly Larry Semo Scientific Merit Award winners.