PHOENIX – SWCA announced that Paul Sunby, a ​​senior project manager in Austin, is the 2018 recipient of the Steven W. Carothers Scientific Merit Award for 2018.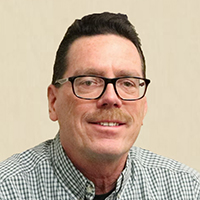 The award is designed to recognize individuals for demonstrating passion, creativity, and scientific excellence in a manner that advances SWCA's purpose, mission, vision, and values.
Paul is a passionate biologist, ready at a moment's notice to document a new species for his birding life list or for the Austin office's bird list. Paul excels in applying a critical eye to every project, every task, and every question—no matter how large or small—that comes across his desk. Sound science is at the foundation of his exceptional consulting career at SWCA. His passion, dedication, and skill have been invaluable to SWCA's success. Beyond SWCA, he has an excellent reputation for avian studies and a wide variety of endangered species issues.   
Paul started in the Tucson office more than 25 years ago and soon transferred to the Austin office where he has remained ever since. Through his excellent work, he has developed a strong following of clients in need of sound solutions to listed species issues.
The Steven W. Carothers award honors a scientist following in the footsteps of our founder by using excellent scientific skills to solve client problems. It is awarded annually to one of the four quarterly Larry Semo Scientific Merit Award winners.