The Wire is SWCA's digital magazine featuring articles that reflect who we are and what we do as an organization. Click "Fullscreen" in the bottom right corner of the window below to flip through this issue, explore the links within, and learn more about our recent exciting projects.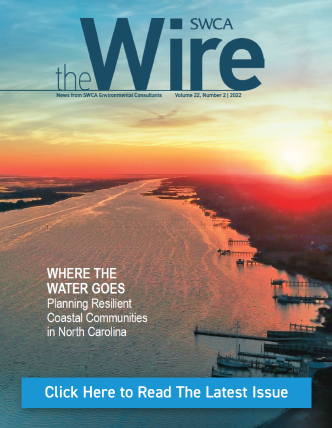 What's your North Star? We all approach the question differently – with a focus on our business plans, the broader community, our people, the planet, or likely some combination thereof. In this issue of The Wire, SWCA's North Star takes many forms.
Our cover story speaks to how we can prepare our coastal communities for a changing climate. Learn more about our adaptation planning approach in "Where the Water Goes, Planning Resilient Coastal Communities in North Carolina".
We answer the call to advance sustainable conservation by having meaningful conversations with Tribal communities to understand and respect Indigenous traditional ecological knowledge and incorporate it into land management practices in "A Plant by Any Other Name".
Uncover the layers of value provided by growing pollinator-friendly vegetation on solar farms – for the environment, the local community, and the developer's bottom line in "The Perks of Pollinators: How Natural Habitat is Heating Up in the Solar Industry".
Sit down with Dr. Jeff Wakefield to learn more about strategic environmental spill response management, natural resource economics, and Natural Resource Damage Assessments (NRDA) in "The Economics of Disaster".
And if you're navigating your company's sustainability strategy for next year, we share key takeaways and lessons learned from reducing and eliminating certain single-use plastics across our offices nationwide in "SWCA's Key Takeaways for Reducing Single-Use Plastics in Offices".